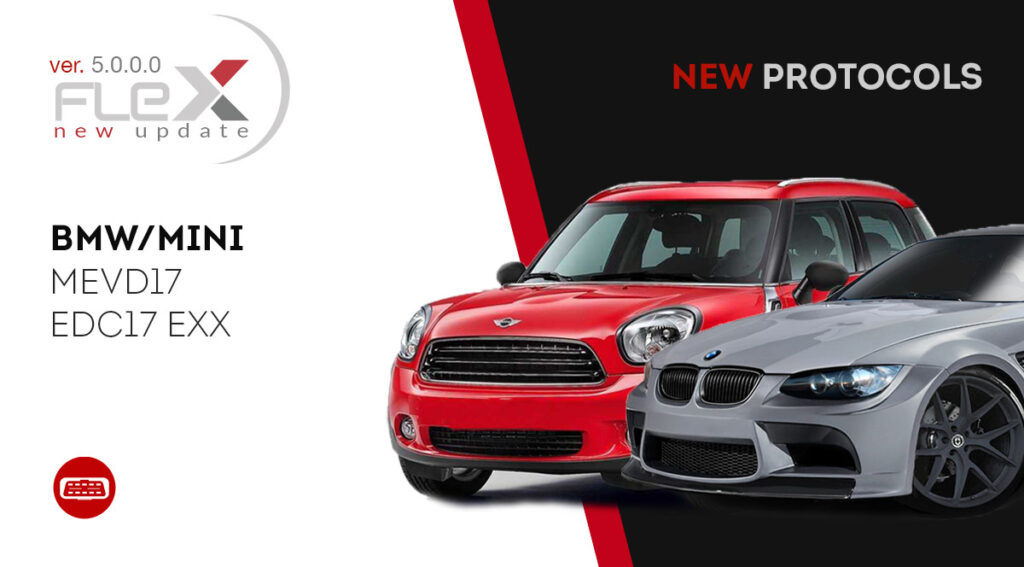 OBD solutions for BMW, MINI, VAG, KIA & HYUNDAI!
MAGICMOTORSPORT has just released new OBD solutions for the programming of BOSCH MEVD17 ECUs mounted on BMW petrol cars like the Z4 (E89) 28i sDrive and Mini Countryman (R60) 1.6, as well as for diesel vehicles like the BMW 3 series (E91) 318d that mounts BOSCH EDC17 ECUs.
This new FLEX 5.0.0.0 update lets you work in OBD on BOSCH EDC16 / MED9 CAN and K-line ECUs installed in VAG group vehicles like the Volkswagen Crafter 2.5 R5 TDI and Audi TT (8J) 2.0 TFSI but it also includes newer VAG group vehicles like the Audi A4 (B8) 2.0 TDI and Volkswagen Scirocco (III) 1.4 TSI equipped with a BOSCH MEDC17 TP2.0 ECU. The update also includes OBD solutions for KIA and Hyundai vehicles that mount BOSCH MEDC17 ECUs.
New OBD protocols added:
Jaguar Denso P4.2NA OBD: Read/Write/Checksum Calculation Maps
Jaguar Denso P5.0NA OBD: Read/Write/Checksum Calculation Maps
Jaguar Denso P4.2SC OBD: Read/Write/Checksum Calculation Maps
Jaguar Denso P5.0SC OBD: Read/Write/Checksum Calculation Maps
BMW BOSCH EDC17C06 OBD: Read/Write/Checksum calculation Maps, Restore ORI
BMW BOSCH EDC17C41 OBD: Read/Write/Checksum calculation Maps, Restore ORI
BMW BOSCH EDC17C50 OBD: Read/Write/Checksum calculation Maps, Restore ORI
BMW BOSCH EDC17CP02 OBD: Read/Write/Checksum calculation Maps, Restore ORI
BMW BOSCH EDC17CP09 OBD: Read/Write/Checksum calculation Maps, Restore ORI
BMW BOSCH EDC17CP45 OBD: Read/Write/Checksum calculation Maps, Restore ORI
BMW BOSCH MEV17.2.1 OBD: Read/Write/Checksum calculation Maps, Restore ORI
BMW BOSCH MEVD17.2 OBD: Read/Write/Checksum calculation Maps, Restore ORI
BMW BOSCH MEVD17.2.4 OBD: Read/Write/Checksum calculation Maps, Restore ORI
BMW BOSCH MEVD17.2.6 OBD: Read/Write/Checksum calculation Maps, Restore ORI
BMW BOSCH MEVD17.2.9 OBD: Read/Write/Checksum calculation Maps, Restore ORI
MINI BOSCH MEV17.2 OBD: Read/Write/Checksum calculation Maps, Restore ORI
MINI BOSCH MEV17.2.2 OBD: Read/Write/Checksum calculation Maps, Restore ORI
MINI BOSCH MEVD17.2.2 OBD: Read/Write/Checksum calculation Maps, Restore ORI
MINI BOSCH MEVD17.2.7 OBD: Read/Write/Checksum calculation Maps, Restore ORI
Hyundai BOSCH EDC17C53 OBD: Read/Write/Checksum Calculation Maps [ TPROT OFF must be perfomed first in BOOT ]
Kia BOSCH EDC17C53 OBD: Read/Write/Checksum Calculation Maps [ TPROT OFF must be perfomed first in BOOT ]
Hyundai BOSCH MEDG17.9.8 OBD: Read/Write/Checksum Calculation Maps [ TPROT OFF must be perfomed first in BOOT ]
Kia BOSCH MEDG17.9.8 OBD: Read/Write/Checksum Calculation Maps [ TPROT OFF must be perfomed first in BOOT ]
Hyundai BOSCH EDC17CP14 OBD: Read/Write/Checksum Calculation Maps [ TPROT OFF must be perfomed first in BOOT ]
Kia BOSCH EDC17CP14 OBD: Read/Write/Checksum Calculation Maps [ TPROT OFF must be perfomed first in BOOT ]
Hyundai BOSCH EDC17C08 OBD: Read/Write/Checksum Calculation Maps [ TPROT OFF must be perfomed first in BOOT ]
Kia BOSCH EDC17C08 OBD: Read/Write/Checksum Calculation Maps [ TPROT OFF must be perfomed first in BOOT ]
Cadillac Delco E92 OBD: Read/Write/Checksum Calculation Maps
Chevrolet Delco E92 OBD: Read/Write/Checksum Calculation Maps
GMC Delco E92 OBD: Read/Write/Checksum Calculation Maps
Vauxhall DENSO SH7055 OBD: Read/Write/Checksum Calculation Internal Flash; Read/Write External Eprom
Opel DENSO SH7055 OBD: Read/Write/Checksum Calculation Internal Flash; Read/Write External Eprom
Mazda DENSO SH7055 OBD: Read/Write/Checksum Calculation Internal Flash; Read/Write External Eprom
Suzuki DENSO SH7055 OBD: Read/Write/Checksum Calculation Internal Flash; Read/Write External Eprom
Volvo Denso SH7058 OBD: Read/Write/Checksum Calculation Internal Flash; Read/Write External Eprom
VW BOSCH ME17.5 TP2.0 OBD: Read/Write/Checksum Calculation Maps – Write Update
AUDI BOSCH MED17.5 TP2.0 OBD: Read/Write/Checksum Calculation Maps – Write Update
VW BOSCH MED17.5 TP2.0 OBD: Read/Write/Checksum Calculation Maps – Write Update
SEAT BOSCH MED17.5 TP2.0 OBD: Read/Write/Checksum Calculation Maps – Write Update
SKODA BOSCH MED17.5 TP2.0 OBD: Read/Write/Checksum Calculation Maps – Write Update
AUDI BOSCH MED17.5.2 TP2.0 OBD: Read/Write/Checksum Calculation Maps – Write Update
SEAT BOSCH MED17.5.2 TP2.0 OBD: Read/Write/Checksum Calculation Maps – Write Update
VW BOSCH MED17.5.2 TP2.0 OBD: Read/Write/Checksum Calculation Maps – Write Update
AUDI BOSCH MED17.5.5 TP2.0 OBD: Read/Write/Checksum Calculation Maps – Write Update
SEAT BOSCH MED17.5.5 TP2.0 OBD: Read/Write/Checksum Calculation Maps – Write Update
SKODA BOSCH MED17.5.5 TP2.0 OBD: Read/Write/Checksum Calculation Maps – Write Update
VW BOSCH MED17.5.5 TP2.0 OBD: Read/Write/Checksum Calculation Maps – Write Update
AUDI MED17.5.20 TP2.0 OBD: Read/Write/Checksum Calculation Maps – Write Update
SEAT MED17.5.20 TP2.0 OBD: Read/Write/Checksum Calculation Maps – Write Update
SKODA MED17.5.20 TP2.0 OBD: Read/Write/Checksum Calculation Maps – Write Update
VW BOSCH MED17.5.20 TP2.0 OBD: Read/Write/Checksum Calculation Maps – Write Update
VW BOSCH MED17.1.1 TP2.0 OBD: Read/Write/Checksum Calculation Maps – Write Update
AUDI BOSCH MED17.1.1 TP2.0 OBD: Read/Write/Checksum Calculation Maps – Write Update
AUDI BOSCH MED17.1 TP2.0 OBD: Read/Write/Checksum Calculation Maps – Write Update
SEAT BOSCH MED17.1 TP2.0 OBD: Read/Write/Checksum Calculation Maps – Write Update
VW BOSCH MED17.1 TP2.0 OBD: Read/Write/Checksum Calculation Maps – Write Update
AUDI BOSCH EDC17CP04 TP2.0 OBD: Read/Write/Checksum Calculation Maps – Write Update
SEAT BOSCH EDC17CP04 TP2.0 OBD: Read/Write/Checksum Calculation Maps – Write Update
SKODA BOSCH EDC17CP04 TP2.0 OBD: Read/Write/Checksum Calculation Maps – Write Update
VW BOSCH EDC17CP04 TP2.0 OBD: Read/Write/Checksum Calculation Maps – Write Update
AUDI BOSCH EDC17CP14 TP2.0 OBD: Read/Write/Checksum Calculation Maps – Write Update
PORSCHE BOSCH EDC17CP14 TP2.0 OBD: Read/Write/Checksum Calculation Maps – Write Update
SEAT BOSCH EDC17CP14 TP2.0 OBD: Read/Write/Checksum Calculation Maps – Write Update
VW BOSCH EDC17CP14 TP2.0 OBD: Read/Write/Checksum Calculation Maps – Write Update
VW BOSCH EDC17CP20 TP2.0 OBD: Read/Write/Checksum Calculation Maps – Write Update
VW BOSCH EDC17CP20 CRAFTER TP2.0 OBD: Read/Write/Checksum Calculation Maps – Write Update
VW BOSCH EDC17CP24 TP2.0 OBD: Read/Write/Checksum Calculation Maps – Write Update
AUDI BOSCH EDC17CP24 TP2.0 OBD: Read/Write/Checksum Calculation Maps – Write Update
AUDI CONTINENTAL SIMOS6.2 OBD: Read/Write/Checksum Calculation Maps
AUDI CONTINENTAL SIMOS6.3 OBD: Read/Write/Checksum Calculation Maps
VW CONTINENTAL SIMOS8.3 OBD: Read/Write/Checksum Calculation Maps ( Unlock in BENCH required )
AUDI CONTINENTAL SIMOS8.3 OBD: Read/Write/Checksum Calculation Maps ( Unlock in BENCH required )
AUDI CONTINENTAL SIMOS8.1 OBD: Read/Write/Checksum Calculation Maps
SKODA BOSCH EDC16U1 OBD: Read/Write/Checksum Calculation Maps
SEAT BOSCH EDC16U1 OBD: Read/Write/Checksum Calculation Maps
AUDI BOSCH EDC16U1 OBD: Read/Write/Checksum Calculation Maps
VW BOSCH EDC16U1 OBD: Read/Write/Checksum Calculation Maps
AUDI BOSCH EDC16U31 OBD: Read/Write/Checksum Calculation Maps
SKODA BOSCH EDC16U31 OBD: Read/Write/Checksum Calculation Maps
SEAT BOSCH EDC16U31 OBD: Read/Write/Checksum Calculation Maps
VW BOSCH EDC16U31 OBD: Read/Write/Checksum Calculation Maps
AUDI BOSCH EDC16U34 OBD: Read/Write/Checksum Calculation Maps
SEAT BOSCH EDC16U34 OBD: Read/Write/Checksum Calculation Maps
SKODA BOSCH EDC16U34 OBD: Read/Write/Checksum Calculation Maps
VW BOSCH EDC16U34 OBD: Read/Write/Checksum Calculation Maps
AUDI BOSCH EDC16C4 M&S OBD: Read/Write/Checksum Calculation Maps
VW BOSCH EDC16CP34 M&S OBD: Read/Write/Checksum Calculation Maps
VW BOSCH EDC16CP34 CRAFTER OBD: Read/Write/Checksum Calculation Maps
VW BOSCH EDC16CP34 OBD: Read/Write/Checksum Calculation Maps
AUDI MED9.1 OBD: Read/Write/Checksum Calculation Maps
AUDI MED9.5 OBD: Read/Write/Checksum Calculation Maps
AUDI MED9.5.10 OBD: Read/Write/Checksum Calculation Maps
FAL MARELLI 6F3 OBD: Read/Write/Checksum Calculation Maps
FAL MARELLI 6JF OBD: Read/Write/Checksum Calculation Maps
OPEL MARELLI 6Ox OBD: Read/Write/Checksum Calculation Maps
FAL BOSCH EDC15C7 OBD: Read/Write/Checksum Calculation Maps
New BENCH protocols added:
Vauxhall DENSO SH7055 Bench: Read/Write/Checksum Calculation Internal Flash; Read/Write External Eprom
Opel DENSO SH7055 Bench: Read/Write/Checksum Calculation Internal Flash; Read/Write External Eprom
Mazda DENSO SH7055 Bench: Read/Write/Checksum Calculation Internal Flash; Read/Write External Eprom
Suzuki DENSO SH7055 Bench: Read/Write/Checksum Calculation Internal Flash; Read/Write External Eprom
Volvo Denso SH7058 Bench: Read/Write/Checksum Calculation Internal Flash; Read/Write External Eprom
New BOOT protocols added:
Jaguar Denso P4.2NA AUD: Read/Write/Checksum Calculation Internal Flash
Jaguar Denso P5.0NA AUD: Read/Write/Checksum Calculation Internal Flash
Jaguar Denso P4.2SC AUD: Read/Write/Checksum Calculation Internal Flash
Jaguar Denso P5.0SC AUD: Read/Write/Checksum Calculation Internal Flash
KIA BOSCH MEDG17.9.8 BOOT: Read/Write/Checksum Calculation Internal Flash; Read/Write Internal Eprom
Nissan BOSCH EDC17CP51 BOOT: Read/Write/Checksum Calculation Internal Flash; Read/Write Internal Eprom
FAL BOSCH EDC15C7 BOOT: Read/Write External Flash; Read/Write External Eeprom
Bugfixes:
PSA MEV17.4.2 reading issue fixed
Toyota DENSO writing issue fixed
BMW Continental MSV90 BENCH identification issue fixed
Porsche Continental SDI9 OBD identification issue fixed
PSA BOSCH MG1CS042 bench writing issue fixed
MB BOSCH MED17.7.1 writing issue fixed
MB EDC17CP10 BENCH ExtFlash writing issue fixed
PSA DCM6.2C added new CRC algo
FAL Marelli 8F3 OBD/BENCH reading improved
VAG Simos18 OBD writing maps improved
Software Improvements:
Added back to stock on FORD SID209 protocols
MB BOSCH EDC17C66 added new type
Added new version of VAG BOSCH EDC17CP44