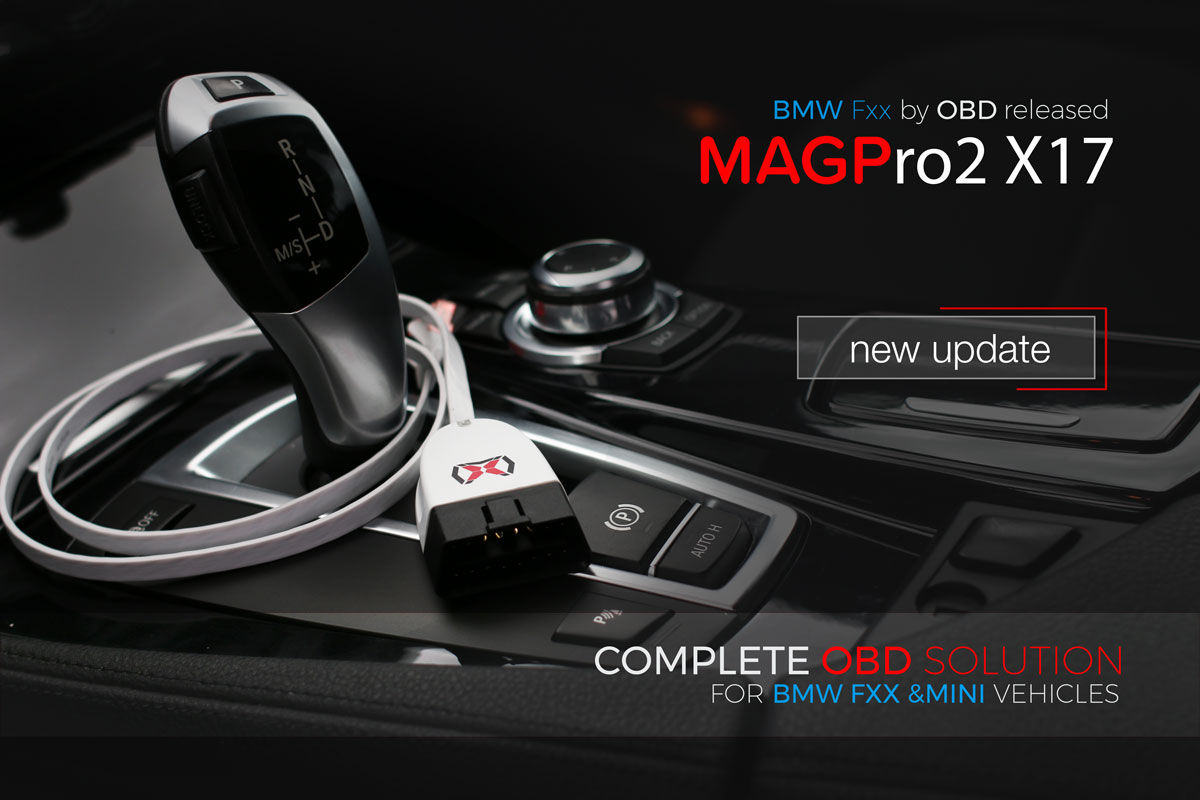 MAGPro2 X17 ver. 12.03.00 released!
Ho Ho Hoops – am I too early? (BMW Fxx by OBD released!)
It seemed like today was going to be just another normal working day when all of a sudden, something unexpected happened – Santa appeared at our door in his brand new red X5 M! He needed to give it a boost for his well deserved holidays after Christmas and of course he couldn't ask us to do this later as he is already getting very busy with work.
We had no choice but to but tune it immediately. He was so happy with the results that he needed to share his news with his elves and all his X17 user friends all around the world.
After that, we had no choice but to release the protocol ahead of schedule ?
So starting today, the BMW F Series is possible to do directly by OBD. No bootloader patches or backup are necessary, all you have to do is just virtual read and write. All this in approximately 15 minutes.
In regards to the E series, it's already work in progress – but we consider the biggest part of the revolution already published.
In conclusion, we wish to add a personal message from the entire MAGICMOTORSPORT Team from around the Globe:
Thank you for selecting us this year. Your feedback has often been the driving force of our Team that has motivated us to improve ourselves and to go forward regardless of the challenge.
In the hope that you will continue to choose us in the future and with the certainty that our Team will double their efforts to give you nothing but the best in the upcoming year, we wish you a truly magic Christmas.
New Protocols:
Audi Continental SIMOS 12.1: Bootloader Maps Read/Write/Checksum/Recovery, Bootloader EEPROM Read/Write/Recovery
Audi Continental SIMOS 12.2: Bootloader Maps Read/Write/Checksum/Recovery, Bootloader EEPROM Read/Write/Recovery (PWD read/loading by server)
Audi Continental SIMOS 18.1: Bootloader Maps Read/Write/Checksum/Recovery, Bootloader EEPROM Read/Write/Recovery (PWD read/loading by server)
Audi Continental SIMOS 18.3: Bootloader Maps Read/Write/Checksum/Recovery, Bootloader EEPROM Read/Write/Recovery (PWD read/loading by server)
BMW Fxx Bosch EDC17C41 TC1797: OBD Virtual Read/Write/Checksum/Recovery (no unlock needed)
BMW Fxx Bosch EDC17C50 TC1797: OBD Virtual Read/Write/Checksum/Recovery (no unlock needed)
BMW Fxx Bosch EDC17C56 TC1797: OBD Virtual Read/Write/Checksum/Recovery (no unlock needed)
BMW Fxx Bosch EDC17C76 TC1793: OBD Virtual Read/Write/Checksum/Recovery (no unlock needed)
BMW Fxx Bosch EDC17CP45 TC1797: OBD Virtual Read/Write/Checksum/Recovery (no unlock needed)
BMW Fxx Bosch EDC17CP49 TC1797: OBD Virtual Read/Write/Checksum/Recovery (no unlock needed)
BMW Fxx Bosch MEVD17.2 TC1797: OBD Virtual Read/Write/Checksum/Recovery (no unlock needed)
BMW Fxx Bosch MEVD17.2.3 TC1793: OBD Virtual Read/Write/Checksum/Recovery (no unlock needed)
BMW Fxx Bosch MEVD17.2.4 TC1797: OBD Virtual Read/Write/Checksum/Recovery (no unlock needed)
BMW Fxx Bosch MEVD17.2.5 TC1797: OBD Virtual Read/Write/Checksum/Recovery (no unlock needed)
BMW Fxx Bosch MEVD17.26 TC1797: OBD Virtual Read/Write/Checksum/Recovery (no unlock needed)
BMW Fxx Bosch MEVD17.2.6 TC1797: OBD Virtual Read/Write/Checksum/Recovery (no unlock needed)
BMW Fxx Bosch MEVD17.2.7 TC1797: OBD Virtual Read/Write/Checksum/Recovery (no unlock needed)
BMW Fxx Bosch MEVD17.2.8 TC1797: OBD Virtual Read/Write/Checksum/Recovery (no unlock needed)
BMW Fxx Bosch MEVD17.2.9 TC1797: OBD Virtual Read/Write/Checksum/Recovery (no unlock needed)
BMW Fxx Bosch MEVD17.2.G TC1797: OBD Virtual Read/Write/Checksum/Recovery (no unlock needed)
BMW Fxx Bosch MEVD17.2.H TC1797: OBD Virtual Read/Write/Checksum/Recovery (no unlock needed)
BMW Fxx Bosch MEVD17.2.K TC1793: OBD Virtual Read/Write/Checksum/Recovery (no unlock needed)
BMW Fxx Bosch MEVD17.2.P TC1797: OBD Virtual Read/Write/Checksum/Recovery (no unlock needed)
Mini Fxx Bosch EDC17C50 TC1797: OBD Virtual Read/Write/Checksum/Recovery (no unlock needed)
Mini Fxx Bosch MEVD17.2.3 TC1793: OBD Virtual Read/Write/Checksum/Recovery (no unlock needed)
Mini Fxx Bosch MEVD17.2.K TC1793: OBD Virtual Read/Write/Checksum/Recovery (no unlock needed)
Porsche Conti SIMOS 18.1: Bootloader Maps Read/Write/Checksum/Recovery, Bootloader EEPROM Read/Write/Recovery (PWD read/loading by server)
Seat Continental SIMOS 12.1: Bootloader Maps Read/Write/Checksum/Recovery, Bootloader EEPROM Read/Write/Recovery (PWD read/loading by server)
Seat Continental SIMOS 12.2: Bootloader Maps Read/Write/Checksum/Recovery, Bootloader EEPROM Read/Write/Recovery (PWD read/loading by server)
Seat Continental SIMOS 18.1: Bootloader Maps Read/Write/Checksum/Recovery, Bootloader EEPROM Read/Write/Recovery (PWD read/loading by server)
Skoda Continental SIMOS 12.1: Bootloader Maps Read/Write/Checksum/Recovery, Bootloader EEPROM Read/Write/Recovery (PWD read/loading by server)
Skoda Continental SIMOS 12.2: Bootloader Maps Read/Write/Checksum/Recovery, Bootloader EEPROM Read/Write/Recovery (PWD read/loading by server)
Skoda Continental SIMOS 18.1: Bootloader Maps Read/Write/Checksum/Recovery, Bootloader EEPROM Read/Write/Recovery (PWD read/loading by server)
Skoda Continental SIMOS 18.3: Bootloader Maps Read/Write/Checksum/Recovery, Bootloader EEPROM Read/Write/Recovery (PWD read/loading by server)
VW Continental SIMOS 12.1: Bootloader Maps Read/Write/Checksum/Recovery, Bootloader EEPROM Read/Write/Recovery (PWD read/loading by server)
VW Continental SIMOS 12.2: Bootloader Maps Read/Write/Checksum/Recovery, Bootloader EEPROM Read/Write/Recovery (PWD read/loading by server)
VW Continental SIMOS 18.1: Bootloader Maps Read/Write/Checksum/Recovery, Bootloader EEPROM Read/Write/Recovery (PWD read/loading by server)
VW Continental SIMOS 18.3: Bootloader Maps Read/Write/Checksum/Recovery, Bootloader EEPROM Read/Write/Recovery (PWD read/loading by server)