Description
MAGPro2 X17 tool is a solution for cars equipped with EDC17, MED17, MEDV17 and other last generation ECUs. The device supports CAN-bus (ISO 15765-4 & SAE-J2234), K-line (ISO 9141-2 & ISO 14230-4), TP2.0 and UDS protocols. Thanks to a wide range of accessories you can read / write the content using the OBDII diagnostic connection or on the bench using the Breakbox included. The Breakbox interface and cables permit operations on TRICORE equipped ECUs by boot loader. Revolutionary functions such as the Full ECU Backup (which saves automatically up to 500 readouts directly into X17 interface) and Data Buffering (in case of malfunction of your PC, it completes the writing as if the failure didn't occur at all).
Additional services as DPF-OFF, Immo OFF, Hot Start Repair etc. are available for all users of X17 tools. Tool is available in the MASTER and SLAVE versions. X17 tool is available as an additional module for MAGpro2 BASE and Standalone versions. For the first year the updates and support are included in price.
Supported Cars List
Contents Overview

MAGP1.2M – MAGPro2 X17 interface MASTER
MAGP0.2.4 – Standard OBDII cable CAN/J1850/K-Line
MAGP1.18 – MAGPro2 BOSCH Tricore Unlock Plugin
MAGP1.20 – Breakbox v2 interface
MAGP0.2.3 – Universal cable for Breakbox v2
MAGP1.21 – Power supply adapter 220v 4A
MAGP0.2.16 – USB 2.0 connection cable 1.8m
MAGP0.2.18 – RJ-45 connection cable 30 cm
MAGP0.2.34 – BMW Fxx Cable for MAGPro2 X17
MAGP0.2.37 – Toyota K-Line OBD Cable Adapter
MAGP0.3.23 – Challenger Clip
MAGP0.5.10 – Adapter – cable to pin (5 x pcs)
MAGP0.5.15 – Large Round FAST-ON Adapters for Breakbox Free Colored Wires Cable (set 6pz for TCU)
MAGP0.5.16 – Large FAST-ON Adapters for Breakbox Free Colored Wires Cable (set 6pz for TCU)
MAGP0.5.1 – Set of BOOT resistors 100Ohm/1kOhm
MAGP0.6.1 – 12 month free updates & Helpdesk access
Main Software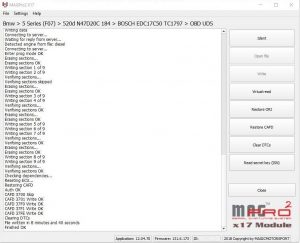 – Intuitive software for ECU data/reading/writing/injector coding etc.
– Protocols divided by brand & model
– Additional information and connection manuals are available online
– CRC automatic is available
– Full or Data only option to save your time
– Supported by Windows 7/8/10
Breakbox & lines analyser
– Communication & power lines analyser
– Soft power up of ECU (by PWM) with short circuit detection
– Automatic ECU power ON/OFF in TC mode -Support K-Line/CAN/Power lines
– Results presented as chart and numbers
– Supported by Windows 7/8/10
Technical support – Helpdesk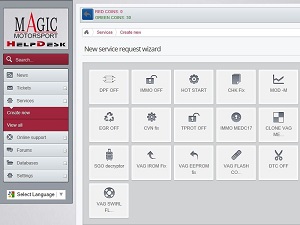 Each MAGPro2 user with an active account has access to the Helpdesk system with installation/operation manuals, ECU pinouts, database of ORI files, knowledgebase etc.
Helpdesk offers also immediate contact with the Tech Support by Online Chat or Ticket System. The ticket system can be used to request services (as DPF OFF, HotStart etc) and MOD files (payable service).
Optional Accessories
To simplify our customers work we developed some advanced optional accessories:
– ECU connectors & special cables,
– BDM programmer for MPC5xx,
– BDM bench with adapters: MPC5xx and TC
– Stabilized power adapters 110/240v AC/DC.