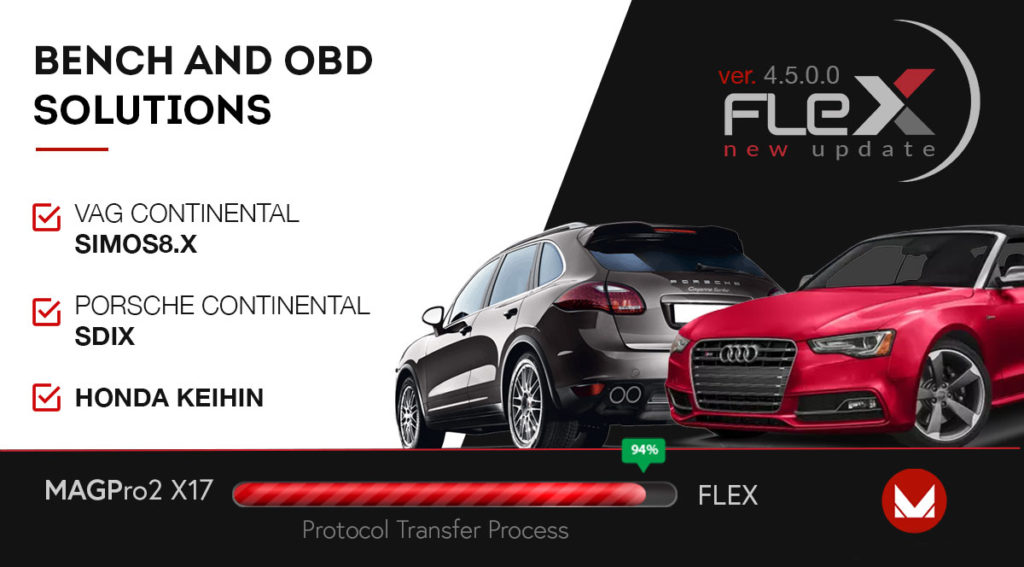 Bench / Boot for VAG Simos 8.x and Porsche SDIx
MAGICMOTORSPORT has just released Bench/Boot solutions for Continental Simos 8.x ECUs installed in VAG group vehicles, an extra programming mode other than the existing one in OBD for 3000TFSI engines.
Plus, there are new Bench solutions for the Continental SDIx control units installed in an assortment of Porsche vehicles (Cayenne, Macan & Panamera in the 3000 and 4800 Turbo versions). These protocols guarantee a complete and safe backup of the ECU as there is no need to open or tamper with it.
In release 4.5.0.0, the completion of the migration of the Honda Keihin ECUs for map programming and therefore for vehicle tuning operations of the OBD / Bench protocols from MAGPro2 X17 to FLEX has been completed.
In addition to the Honda Keihin protocol, quite a few petrol engines from 1200cc to 1800VTEC, including the Hybrid versions, produced from 2005 to 2017 have also been added to the FLEX vehicle list.
New protocols added:
Acura Keihin 37820-R84-A5X OBD: Read/Write/Checksum Flash ( Supported on BENCH too )
Audi Continental SIMOS8.5 Bench: Read/Write/Checksum IntFlash, Read/Write IntEeprom
Audi Continental SIMOS8.5 Boot: Read/Write/Checksum IntFlash, Read/Write IntEeprom
Audi Continental SIMOS8.3 Bench: Read/Write/Checksum IntFlash, Read/Write IntEeprom, Read/Write ExtEeprom
Audi Continental SIMOS8.3 Boot: Read/Write/Checksum IntFlash, Read/Write IntEeprom, Read/Write ExtEeprom
Audi Continental SIMOS8.4 Bench: Read/Write/Checksum IntFlash, Read/Write IntEeprom, Read/Write ExtEeprom
Audi Continental SIMOS8.4 Boot: Read/Write/Checksum IntFlash, Read/Write IntEeprom, Read/Write ExtEeprom
Audi Continental SIMOS8.6 Bench: Read/Write/Checksum Maps, Read/Write IntEeprom
Audi Continental SIMOS8.6 Boot: Read/Write/Checksum Maps, Read/Write IntEeprom
Buick Bosch MED9.6.1 OBD: Read/Write/Checksum Maps
Buick Bosch ME9.6 OBD: Read/Write/Checksum Maps
Cadillac Bosch MED9.6.1 OBD: Read/Write/Checksum Maps
Cadillac Bosch ME9.6 OBD: Read/Write/Checksum Maps
Chevrolet Bosch MED9.6.1 OBD: Read/Write/Checksum Maps
GMC Bosch MED9.6.1 OBD: Read/Write/Checksum Maps
Holden Bosch MED9.6.1 OBD: Read/Write/Checksum Maps
Holden Bosch ME9.6 OBD: Read/Write/Checksum Maps
Honda Keihin 37820-XXX-XXXX OBD: Read/Write/Checksum Flash ( Supported on BENCH too )
Hyundai Continental SIM2K-253 Boot: Read/Write/Checksum Maps, Read/Write IntEeprom
Kia Continental SIM2K-253 Boot: Read/Write/Checksum Maps, Read/Write IntEeprom
Opel Bosch MED9.6.1 OBD: Read/Write/Checksum Maps
Opel Bosch ME9.6 OBD: Read/Write/Checksum Maps
Pontiac Bosch MED9.6.1 OBD: Read/Write/Checksum Maps
Pontiac Bosch ME9.6 OBD: Read/Write/Checksum Maps
Porsche Continental SDI6 Bench: Read/Write/Checksum IntFlash, Read/Write ExtEeprom
Porsche Continental SDI7 Bench: Read/Write/Checksum IntFlash, Read/Write ExtEeprom
Porsche Continental SDI8 Bench: Read/Write/Checksum IntFlash, Read/Write ExtEeprom
Porsche Continental SIMOS8.5 Bench: Read/Write/Checksum IntFlash, Read/Write IntEeprom
Porsche Continental SIMOS8.5 Boot: Read/Write/Checksum IntFlash, Read/Write IntEeprom
Saab Bosch ME9.6 OBD: Read/Write/Checksum Maps
Saturn Bosch MED9.6.1 OBD: Read/Write/Checksum Maps
Saturn Bosch ME9.6 OBD: Read/Write/Checksum Maps
Vauxhall Bosch ME9.6 OBD: Read/Write/Checksum Maps
Volkswagen (VW) Continental SIMOS8.5 Bench: Read/Write/Checksum IntFlash, Read/Write IntEeprom,
Volkswagen (VW) Continental SIMOS8.5 Boot: Read/Write/Checksum IntFlash, Read/Write IntEeprom,
Volkswagen (VW) Continental SIMOS8.3 Bench: Read/Write/Checksum IntFlash, Read/Write IntEeprom, Read/Write ExtEeprom
Volkswagen (VW) Continental SIMOS8.3 Boot: Read/Write/Checksum IntFlash, Read/Write IntEeprom, Read/Write ExtEeprom
Bugfixes:
Fixed OBD reading/writing issues on PSA BOSCH MED17.4.2

Fixed OBD reading/writing issues on BOSCH EDC16C32

Fixed OBD reading/writing issues on DCM3.7 Chevrolet
Software Improvements:
Added: new OBD version for BOSCH MED17.5.21
Added: OBD support for new BOSCH version MD1CP004 – VAG
Added: BENCH support for the latest version of BOSCH MD1CS006 – MB