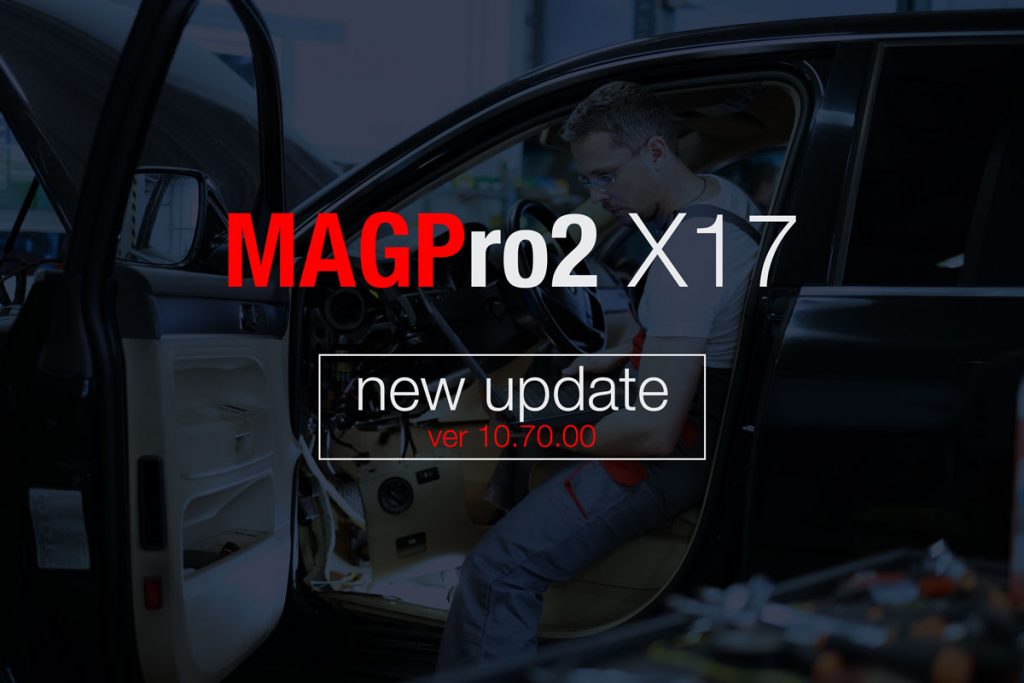 The February update is out now!
We start off with EDC17C84_V2. This ECU has a new software, different from the already supported EDC17C84 – we finally found a solution to tune and clone those units which are used on MY2016 & MY2017 vehicles.
Similarly, we added a new version of the CRD3.xx TC1793 – CRD3P.D1.
Furthermore, now it is possible to CLONE and RESTORE older version of the 7-Speed dual clutch transmission named VGS-FDCT – allowing you to clone any dual clutch transmission from 2010 model year to nowadays. We also released TPROT OFF solution for BMW EDC17 Exx series has been released as a free service through Helpdesk.
On next update: we are adding tuning solution for all the gearboxes currently supported by CLONE/RESTORE protocol. Our next MAGIC is already on its way to your businesses!
148 vehicles have been added with this release.
New protocols added:
AUDI BOSCH MED9.5.10: OBD TP2.0 R/W/CHK/RECOVERY
BMW BOSCH ME17.2.1 TC1796: BL IROM R/W/CHK/RECOVERY, BL EEPROM R/W/CHK/RECOVERY, BL XROM R/W/CHK/RECOVERY
BMW BOSCH MEVD17.2.P TC1797: BL IROM R/W/CHK/RECOVERY, BL EEPROM R/W/CHK/RECOVERY, PASS READ by MAGP1.18
FORD BOSCH EDC17C70 TC1793: BL IROM R/W/CHK/RECOVERY, BL EEPROM R/W/CHK/RECOVERY, PASS READ
HYUNDAI BOSCH ME17.9.11.1 TC1762: BL IROM R/W/CHK/RECOVERY, BL EEPROM R/W/CHK/RECOVERY
JAGUAR BOSCH MEDC17.9 TC1793: BL IROM R/W/CHK/RECOVERY, BL EEPROM R/W/CHK/RECOVERY, PASS READ by MAGP1.18
KIA BOSCH ME17.9.11.1 TC1762: BL IROM R/W/CHK/RECOVERY, BL EEPROM R/W/CHK/RECOVERY
LAND ROVER BOSCH MEDC17.9 TC1793: BL IROM R/W/CHK/RECOVERY, BL EEPROM R/W/CHK/RECOVERY, PASS READ by MAGP1.18
MAZDA DENSO SH3: OBD UDS R/W/CHK/RECOVERY
MERCEDES GETRAG VGS-FDCT TC1766: CLONE/RESTORE
NISSAN BOSCH EDC17C84_V2 TC1782: BL IROM R/W/CHK/RECOVERY, BL EEPROM R/W/CHK/RECOVERY, PASS READ by MAGP1.18
OPEL BOSCH EDC17C84_V2 TC1782: BL IROM R/W/CHK/RECOVERY, BL EEPROM R/W/CHK/RECOVERY, PASS READ by MAGP1.18
RENAULT BOSCH EDC17C84_V2 TC1782: BL IROM R/W/CHK/RECOVERY, BL EEPROM R/W/CHK/RECOVERY, PASS READ by MAGP1.18
RENAULT CONTINENTAL SID309: OBD UDS R/W/CHK/RECOVERY
SAAB BOSCH EDC17C19 TC1792: BL IROM R/W/CHK/RECOVERY, BL EEPROM R/W/CHK/RECOVERY
SEAT BOSCH MED9.5.10: OBD TP2.0 R/W/CHK/RECOVERY
SKODA BOSCH MED9.5.10: OBD TP2.0 R/W/CHK/RECOVERY
VAUXHALL BOSCH EDC17C84_V2 TC1782: BL IROM R/W/CHK/RECOVERY, BL EEPROM R/W/CHK/RECOVERY, PASS READ by MAGP1.18
VW BOSCH MED9.5.10: OBD TP2.0 R/W/CHK/RECOVERY
New functions available by software:
MERCEDES DELPHI CRD3.xx TC1793: added support for new CRD3P.D1 version
TOYOTA DENSO 896xx OBD 76F0219 Diesel: added new pass calculation method for OBD writing
New Services by MMS HelpDesk:
BMW EDC17CP02 TC1766: TPROT OFF function added on BL IROM readout
BMW EDC17C06 TC1766: TPROT OFF function added on BL IROM readout
BMW EDC17CP09 TC1766: TPROT OFF function added on BL IROM readout
Software Bugfixes:
AUDI BOSCH MED9.1 OBD: CRC issue fixed
AUDI BOSCH MED9.5 OBD: CRC issue fixed
AUDI TEMIC DQ250Cxx BENCH R/W: Writing issue fixed
DAIHATSU DENSO 896xx OBD CAN: Recovery issue fixed
HINO DENSO 896xx OBD CAN: Recovery issue fixed
LAND ROVER SIEMENS SID20X OBD: Protocol fixed
LEXUS DENSO 896xx OBD CAN: Recovery issue fixed
SEAT BOSCH MED9.1 OBD: CRC issue fixed
SEAT BOSCH MED9.5 OBD: CRC issue fixed
SEAT TEMIC DQ250Cxx BENCH R/W: Writing issue fixed
SKODA BOSCH MED9.1 OBD: CRC issue fixed
SKODA BOSCH MED9.5 OBD: CRC issue fixed
SKODA TEMIC DQ250Cxx BENCH R/W: Writing issue fixed
TOYOTA DENSO 896xx OBD CAN: Recovery issue fixed
VW BOSCH MED9.1 OBD: CRC issue fixed
VW BOSCH MED9.5 OBD: CRC issue fixed
VW TEMIC DQ250Cxx BENCH R/W: Writing issue fixed