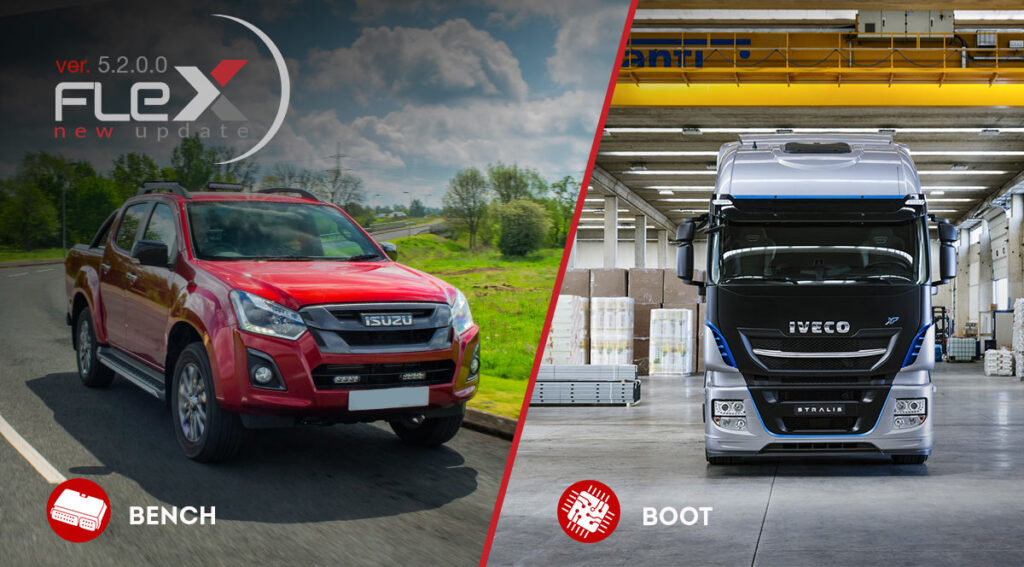 Bench and Boot solutions for cars and heavy vehicles!
MAGICMOTORSPORT releases new programming solutions in Bench and Boot modes for Isuzu, Saic, Iveco and more. Specifically, with version 5.2.0.0 of FLEX it's now possible to work in Bench mode on the brand new Bosch MD1CS089 ECU equipped on Isuzu D-Max 4×2 AT Blue Power (MY2019).
There is faster and safer Boot connections for Marelli METATRON MF4 engine control units equipped by Iveco Stralis 440S (MY2015) and BOSCH ME7.7.0 that come installed on Smart 453.
Last but not least, new Boot solutions also for John Deere agricultural vehicles managed by L14 electronics.
New protocols added:
Abarth Marelli MTA BOOT: Internal Flash Read/Write Checksum, External Eeprom Read/Write, Full Backup Read/Write
Audi BOSCH ME7.5.10 BOOT: External Flash Read/Write Checksum, External Eeprom Read/Write, Full Backup Read/Write
Fiat Marelli MTA BOOT: Internal Flash Read/Write Checksum, External Eeprom Read/Write, Full Backup Read/Write
FORD BOSCH EDC16CP39 BDM: Internal Flash Read/Write Checksum, External Flash Read/Write Checksum, Internal Eeprom Read/Write, Full Backup Read/Write
FORD Siemens SID804 BDM: External Flash Read/Write Checksum
Isuzu BOSCH MD1CS089 BENCH: Internal Flash Read/Write Checksum, Internal Eeprom Read/Write, Full Backup Read/Write
IVECO Marelli METATRON MF4 BOOT: External Flash Read/Write Checksum, External Eeprom Read/Write, Full Backup Read/Write
Jaguar Denso 112500_01xx BENCH: Internal Flash Read/Write Checksum, External Flash Read/Write Checksum, External Eeprom Read/Write, Full Backup Read/Write
JOHN DEERE L14 BDM: Internal Flash Read/Write Checksum, External Flash Read/Write Checksum, External Eeprom Read/Write, Full Backup Read/Write
JOHN DEERE L15 BDM: Internal Flash Read/Write Checksum, External Flash Read/Write Checksum, External Eeprom Read/Write, Full Backup Read/Write
JOHN DEERE L16 BDM: Internal Flash Read/Write Checksum, External Flash Read/Write Checksum, External Eeprom Read/Write, Full Backup Read/Write
JOHN DEERE L3 BDM: Internal Flash Read/Write Checksum, External Flash Read/Write Checksum, External Eeprom Read/Write, Full Backup Read/Write
JOHN DEERE L6 BDM: Internal Flash Read/Write Checksum, External Flash Read/Write Checksum, External Eeprom Read/Write, Full Backup Read/Write
Kia Delphi DCM3.2 BDM : Internal Flash Read/Write Checksum, External Flash Read/Write Checksum, External Eeprom Read/Write, Full Backup Read/Write
Land Rover BOSCH EDC16CP39 BDM: Internal Flash Read/Write Checksum, External Flash Read/Write Checksum, Internal Eeprom Read/Write, Full Backup Read/Write
Mercedes BOSCH ME2.8.1 BOOT: External Flash Read/Write Checksum, External Eeprom Read/Write, Full Backup Read/Write
Mercedes Delphi CRD11 BDM: Internal Flash Read/Write Checksum, External Flash Read/Write Checksum, External Eeprom Read/Write, Full Backup Read/Write
Mitsubishi Denso 112500_01xx BENCH: Internal Flash Read/Write Checksum, External Flash Read/Write Checksum, External Eeprom Read/Write, Full Backup Read/Write
Nissan Denso 112500_01xx BENCH: Internal Flash Read/Write Checksum, External Flash Read/Write Checksum, External Eeprom Read/Write, Full Backup Read/Write
Opel Denso 112500_01xx BENCH: Internal Flash Read/Write Checksum, External Flash Read/Write Checksum, External Eeprom Read/Write, Full Backup Read/Write
Renault Siemens SID304 BDM: External Flash Read/Write Checksum, Internal Eeprom Read/Write, Full Backup Read/Write
SAIC BOSCH MD1CS089 BENCH: Internal Flash Read/Write Checksum, Internal Eeprom Read/Write, Full Backup Read/Write
Smart BOSCH ME7.7.0 BOOT: Internal Flash Read/Write Checksum
Bugfixes:
Password issue reading fixed on Mercedes SID307 and SID310
VAG Continental Simos10.xx identification fixed
VAG UDS/TP2.0 autodetect improved
Fixed writing on OBD Porsche SDI4/3
Software Improvements:
New CRC for DELCO E98 added
Added new CRC for MD1CE100
Added VR option for FAL BOSCH EDC16C39 OBD