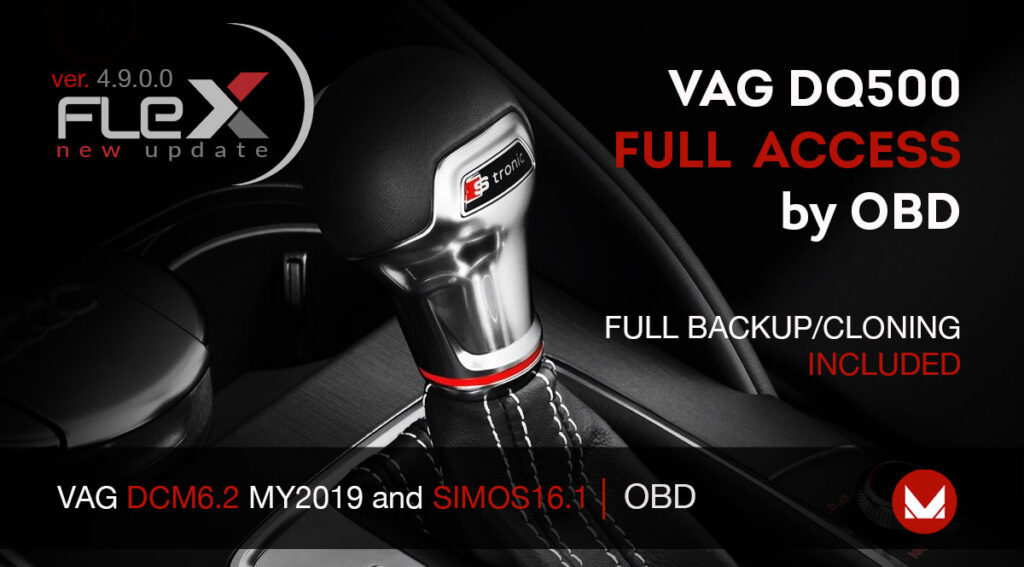 OBD solutions for VAG group: Continental DQ500 as a FLEX exclusive, DCM6.2V ( MY2019 ) & Simos16.1
MAGICMOTORSPORT has released an exclusive Full OBD solution for Continental DQ500 TCUs for VAG group vehicles. As of now, it is possible to program this TCU directly from the vehicle's diagnostic socket, accessing all the memories present in its mechatronics (Maps Zone, Internal EEprom, Full backup / Cloning).
New OBD solutions have also been released in this 4.9.0.0 FLEX SW version for programming DCM6.2 (MY 2019) and Simos16.1 ECUs installed in cars from the VAG group like for example Audi Q2 1.6 MY 2019 and Audi S5 3.0 TFSI MY 2014 just to name a few.
New protocols added:
Audi Continental DQ500 OBD Full : Read/Write/Checksum Maps Zone – Read/Write Internal EEprom – Fullbackup/Cloning
Audi Continental Simos16.1 OBD: Virtual Read/Write/Checksum – Write Update
Audi Delphi DCM6.2V ( MY2019 ) OBD: Virtual Read/Write/Checksum – Write Update
Cadillac Delco E38 OBD: Read/Write/Checksum
Chevrolet Delco E38 OBD: Read/Write/Checksum
Volkswagen (VW) DCM6.2V ( MY 2019 ) OBD: Virtual Read/Write/Checksum – Write Update
Volkswagen (VW) Simos16.1 OBD: Virtual Read/Write/Checksum – Write Update
Volkswagen (VW) Continental DQ500 OBD Full: Read/Write/Checksum Maps Zone Read/Write Internal EEprom – Fullbackup/Cloning
Toyota Denso 276122-092 AUD: Read/Write/Checksum Internal Flash
Bugfixes:
PSA BOSCH EDC16C34 OBD writing improved
BMW Continental MSD80 identifications issue fixed
Software Improvements:
Improved Honda Keihin TC1782 OBD UDS Compatibility
Ford BOSCH EDC17CP42 new OBD type supported
Audi Continental SIMOS8.2 new OBD type supported
Renault Continental EMS3155 new OBD KWP type supported
Nissan Continental SID309 new OBD KWP type supported