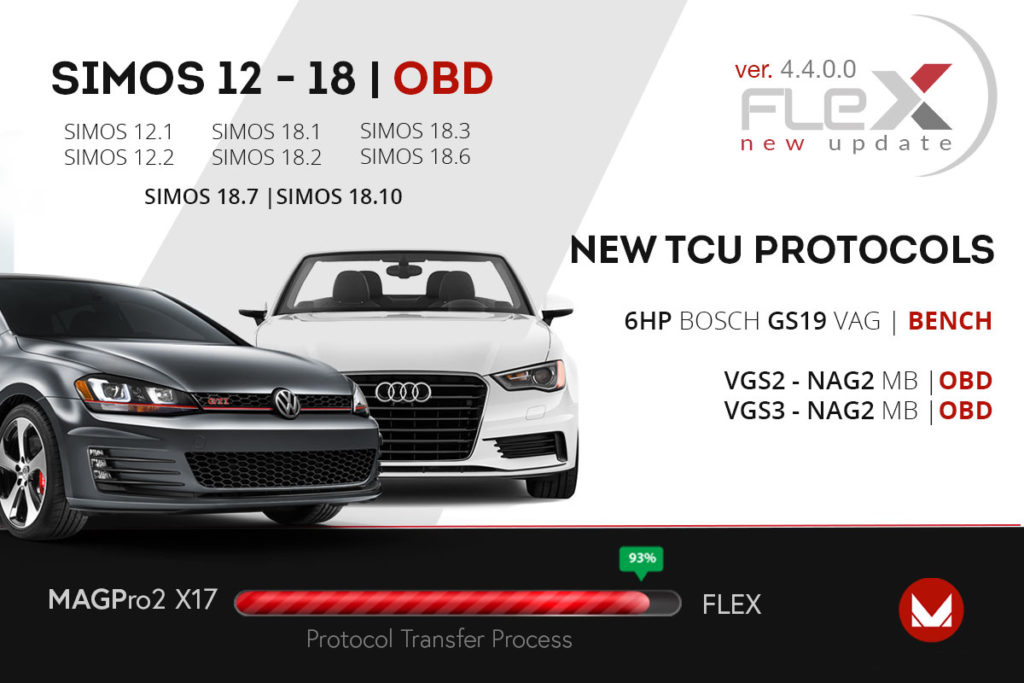 Exclusive OBD solution for 7G Tronic TCU and for GS19 on bench!
Flex version 4.4.0.0 is ready
MAGICMOTORSPORT releases OBD exclusive solutions for Siemens VGS2-NAG2 and Continental VGS3-NAG2 transmission control units, used on 7G Tronic, a type of seven gear transmission used on Mercedes vehicles. New Bench protocol for 6 speed Bosch GS19 transmission control units, mounted on Audi. In the meanwhile, the migration process from X17 to Flex is almost complete.
New protocols added:
Audi Bosch 6HP TCU GS19 Bench: Read/Write/Checksum Flash, Read/Write EEPROM, Full Read/Full Write Clone/Restore
Audi Continental Simos 12.1 OBD: Virtual Read/Write/Checksum Maps, Write Update (FRF/ODX, including flash counter correction)
Audi Continental Simos 12.2 OBD: Virtual Read/Write/Checksum Maps, Write Update (FRF/ODX, including flash counter correction)
Audi Continental Simos 18.1 OBD: Virtual Read/Write/Checksum Maps, Write Update (FRF/ODX, including flash counter correction)
Audi Continental Simos 18.2 OBD: Virtual Read/Write/Checksum Maps, Write Update (FRF/ODX, including flash counter correction)
Audi Continental Simos 18.3 OBD: Virtual Read/Write/Checksum Maps, Write Update (FRF/ODX, including flash counter correction)
Audi Continental Simos 18.6 OBD: Virtual Read/Write/Checksum Maps, Write Update (FRF/ODX, including flash counter correction)
Dacia Continental EMS3155 TC1782 Boot: Read/Write/Checksum Internal Flash, Read/Write Internal EEPROM, Full Read/Full Write Clone/Restore
Dacia Continental SID310 TC1791 Boot: Read/Write/Checksum Internal Flash, Read/Write Internal EEPROM, Full Read/Full Write Clone/Restore
Fiat Continental GPEC4LM Boot: Read/Write/Checksum Internal Flash, Read/Write External EEPROM, Full Read/Full Write Clone/Restore
Infiniti Continental SID310 TC1791 Boot: Read/Write/Checksum Internal Flash, Read/Write Internal EEPROM, Full Read/Full Write Clone/Restore
Iveco Bosch EDC16C8 Bench: Read/Write/Checksum Flash, Read/Write EEPROM, Full Read/Full Write Clone/Restore
Iveco Bosch EDC16C8 BDM: Read/Write/Checksum Flash, Read/Write EEPROM, Full Read/Full Write Clone/Restore
Jeep Continental GPEC4LM Boot: Read/Write/Checksum Internal Flash, Read/Write External EEPROM, Full Read/Full Write Clone/Restore
Mercedes Continental SID310 TC1791 Boot: Read/Write/Checksum Internal Flash, Read/Write Internal EEPROM, Full Read/Full Write Clone/Restore
Mercedes Siemens VGS2-NAG2 (7GTronic) OBD: Read/Write/Checksum Maps
Mercedes Continental VGS3-NAG2 (7GTronic) OBD: Read/Write/Checksum Maps
Nissan Continental EMS3155 TC1782 Boot: Read/Write/Checksum Internal Flash, Read/Write Internal EEPROM, Full Read/Full Write Clone/Restore
Nissan Continental SID310 TC1791 Boot: Read/Write/Checksum Internal Flash, Read/Write Internal EEPROM, Full Read/Full Write Clone/Restore
Opel Continental SID309 TC1767 Boot: Read/Write/Checksum Internal Flash, Read/Write Internal EEPROM, Full Read/Full Write Clone/Restore
Porsche Bosch MD1CP014 Bench: Read/Write/Checksum Internal Flash, Read/Write Internal EEPROM, Full Read/Full Write Backup/Restore
Porsche Continental Simos 18.1 OBD: Virtual Read/Write/Checksum Maps, Write Update (FRF/ODX, including flash counter correction)
Renault Continental EMS3155 TC1782 Boot: Read/Write/Checksum Internal Flash, Read/Write Internal EEPROM, Full Read/Full Write Clone/Restore
Renault Continental SID309 TC1767 Boot: Read/Write/Checksum Internal Flash, Read/Write Internal EEPROM, Full Read/Full Write Clone/Restore
Renault Continental SID310 TC1791 Boot: Read/Write/Checksum Internal Flash, Read/Write Internal EEPROM, Full Read/Full Write Clone/Restore
Royal Enfield Bosch ME17.9.71 Bench: Read/Write/Checksum Internal Flash, Read/Write/Checksum Internal EEPROM, Full Read/Full Write Clone/Restore
Royal Enfield Bosch ME17.9.71 Boot: Read/Write/Checksum Internal Flash, Read/Write/Checksum Internal EEPROM, Full Read/Full Write Clone/Restore
Seat Continental Simos 12.1 OBD: Virtual Read/Write/Checksum Maps, Write Update (FRF/ODX, including flash counter correction)
Seat Continental Simos 12.2 OBD: Virtual Read/Write/Checksum Maps, Write Update (FRF/ODX, including flash counter correction)
Seat Continental Simos 18.1 OBD: Virtual Read/Write/Checksum Maps, Write Update (FRF/ODX, including flash counter correction)
Seat Continental Simos 18.10 OBD: Virtual Read/Write/Checksum Maps, Write Update (FRF/ODX, including flash counter correction)
Skoda Continental Simos 12.1 OBD: Virtual Read/Write/Checksum Maps, Write Update (FRF/ODX, including flash counter correction)
Skoda Continental Simos 12.2 OBD: Virtual Read/Write/Checksum Maps, Write Update (FRF/ODX, including flash counter correction)
Skoda Continental Simos 18.1 OBD: Virtual Read/Write/Checksum Maps, Write Update (FRF/ODX, including flash counter correction)
Skoda Continental Simos 18.3 OBD: Virtual Read/Write/Checksum Maps, Write Update (FRF/ODX, including flash counter correction)
Skoda Continental Simos 18.6 OBD: Virtual Read/Write/Checksum Maps, Write Update (FRF/ODX, including flash counter correction)
Vauxhall Continental SID309 TC1767 Boot: Read/Write/Checksum Internal Flash, Read/Write Internal EEPROM, Full Read/Full Write Clone/Restore
Volkswagen (VW) Continental Simos 12.1 OBD: Virtual Read/Write/Checksum Maps, Write Update (FRF/ODX, including flash counter correction)
Volkswagen (VW) Continental Simos 12.2 OBD: Virtual Read/Write/Checksum Maps, Write Update (FRF/ODX, including flash counter correction)
Volkswagen (VW) Continental Simos 18.1 OBD: Virtual Read/Write/Checksum Maps, Write Update (FRF/ODX, including flash counter correction)
Volkswagen (VW) Continental Simos 18.2 OBD: Virtual Read/Write/Checksum Maps, Write Update (FRF/ODX, including flash counter correction)
Volkswagen (VW) Continental Simos 18.3 OBD: Virtual Read/Write/Checksum Maps, Write Update (FRF/ODX, including flash counter correction)
Volkswagen (VW) Continental Simos 18.6 OBD: Virtual Read/Write/Checksum Maps, Write Update (FRF/ODX, including flash counter correction)
Volkswagen (VW) Continental Simos 18.7 OBD: Virtual Read/Write/Checksum Maps, Write Update (FRF/ODX, including flash counter correction)
Volkswagen (VW) Continental Simos 18.10 OBD: Virtual Read/Write/Checksum Maps, Write Update (FRF/ODX, including flash counter correction)
Bugfixes:
FCA Marelli 8GMK OBD: fixed an issue on reading internal flash
GM Delco E80 OBD: issue fixed on reading
MB Delphi CRD2.xx OBD: fixed an issue with reading
MB Delphi CRD2.xx MPC55xx Boot: fixed an issue with EEPROM read being smaller than intended
New Holland Bosch MD1CE101 Bench: fixed an issue on writing full backup
Porsche Siemens PDK3000 OBD: fixed an error with license for some users
VAG Bosch MEDC17 OBD: fixed an issue with older models
Win 7 users: fixed some OS related issues
Software Improvements:
Flex GUI: added in manuals the info about the Flexbox pin, so it will be far easier to connect in boot mode
Flex GUI: added support for Serbian language!
Ford Continental SID209 OBD & Bench: added support for Ford Ranger and more Transit models are now available
Kia Continental SIM2K-260 Boot: added new CRC type for MY2020 Stinger