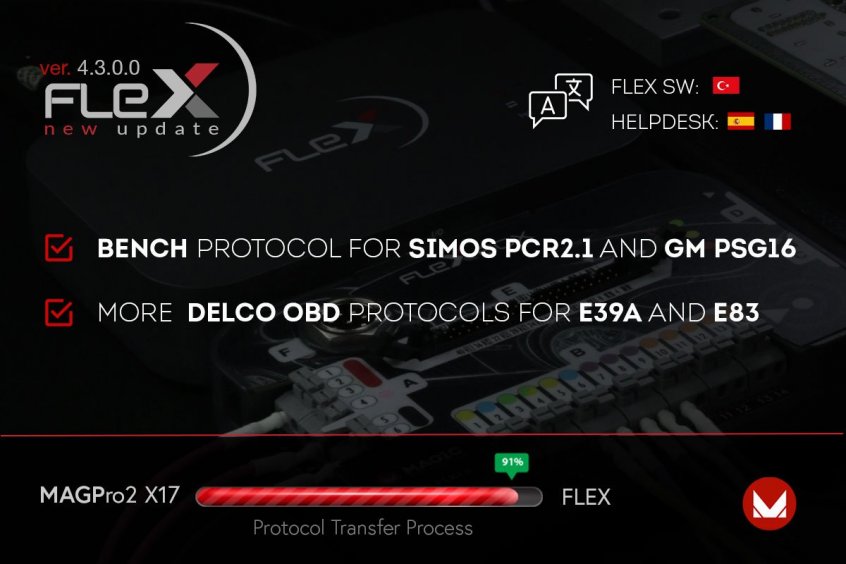 New bench solutions for PSG16 and PCR2.1!
MAGICMOTORSPORT releases new solutions to program in Bench mode Continental Simos PCR2.1 ECUs used on VAG vehicles and for Bosch PSG16 ECUs mounted on General Motors. The latter is a type of control unit directly installed on the injection pump, thus is very useful to be able to read and write the entire content (Flash/EEPROM) in Bench mode – that is an exclusive of Flex version 4.3.0.0.
The new update includes also OBD solutions for Bosch PSG16 ECUs, for Delco E39A and E83 of GM vehicles, for Siemens SID20x, 80x, 90x Ford and Subaru Hitachi DEF00x (1.6/2.0 Turbo). On this last release Flex also got the translation in turkish language. News for Helpdesk users: today the platform is available in spanish and french.
New protocols added:
Alpina Continental MSD81 OBD: Read/Write/Checksum Maps
Alpina Continental MSD81 TC1796 Bench: Read/Write/Checksum Internal Flash, Read/Write Internal EEPROM, Full Read/Full Write Clone/Restore
Alpina Continental MSD81 TC1796 Boot: Read/Write/Checksum Internal Flash, Read/Write Internal EEPROM, Full Read/Full Write Clone/Restore
Audi Continental Simos PCR2.1 Bench: Read/Write/Checksum Internal Flash, Read/Write External EEPROM, Full Read/Full Write Clone/Restore (only through service)
Buick Delco E39A OBD: Read/Write/Checksum Maps
Buick Delco E83 OBD: Read/Write/Checksum Maps
Buick Delco E83A OBD: Read/Write/Checksum Maps
Buick Delco E83B OBD: Read/Write/Checksum Maps
Cadillac Delco E39A OBD: Read/Write/Checksum Maps
Chevrolet Delco E39A OBD: Read/Write/Checksum Maps
Chevrolet Delco E83 OBD: Read/Write/Checksum Maps
Chevrolet Delco E83A OBD: Read/Write/Checksum Maps
Chevrolet Delco E83B OBD: Read/Write/Checksum Maps
Citroen Bosch EDC16C34 OBD: Read/Write/Checksum Maps
Fiat Bosch EDC16C34 OBD: Read/Write/Checksum Maps
Ford Marelli 8F2 OBD: Read/Write/Checksum Internal Flash, Read/Write External EEPROM, Full Read/Full Write Clone/Restore
Ford Marelli 8F2 Boot: Read/Write/Checksum Internal Flash, Read/Write External EEPROM, Full Read/Full Write Clone/Restore
Ford Siemens SID206 OBD: Read/Write/Checksum Maps
Ford Siemens SID802 OBD: Read/Write/Checksum Maps
Ford Siemens SID804 OBD: Read/Write/Checksum Maps
Ford Siemens SID901 OBD: Read/Write/Checksum Maps
Ford Siemens SID902 OBD: Read/Write/Checksum Maps
GMC Delco E39A OBD: Read/Write/Checksum Maps
GMC Delco E83B OBD: Read/Write/Checksum Maps
Great Wall Bosch MED17.8.10 Boot: Read/Write/Checksum Internal Flash, Read/Write/Checksum Internal EEPROM, Full Read/Full Write Clone/Restore
Holden Bosch PSG16 OBD: Virtual Read/Read (only by pinout)/Write/Checksum Flash
Holden Bosch PSG16 Bench: Read/Write/Checksum Flash, Read/Write External EEPROM, Full Read/Full Write Clone/Restore
Holden Delco E39A OBD: Read/Write/Checksum Maps
Holden Delco E83 OBD: Read/Write/Checksum Maps
Holden Delco E83B OBD: Read/Write/Checksum Maps
IC Bus Siemens SID902 OBD: Read/Write/Checksum Maps
International Trucks Siemens SID902 OBD: Read/Write/Checksum Maps
Mazda Siemens SID206 OBD: Read/Write/Checksum Maps
Opel Bosch PSG16 OBD: Virtual Read/Read (only by pinout)/Write/Checksum Flash
Opel Bosch PSG16 Bench: Read/Write/Checksum Flash, Read/Write External EEPROM, Full Read/Full Write Clone/Restore
Opel Delco E39A OBD: Read/Write/Checksum Maps
Opel Delco E83 OBD: Read/Write/Checksum Maps
Opel Delco E83A OBD: Read/Write/Checksum Maps
Opel Delco E83B OBD: Read/Write/Checksum Maps
Peugeot Bosch EDC16C34 OBD: Read/Write/Checksum Maps
Saab Bosch PSG16 OBD: Virtual Read/Read (only by pinout)/Write/Checksum Flash
Saab Bosch PSG16 Bench: Read/Write/Checksum Flash, Read/Write External EEPROM, Full Read/Full Write Clone/Restore
Saab Delco E39A OBD: Read/Write/Checksum Maps
Seat Continental Simos PCR2.1 Bench: Read/Write/Checksum Internal Flash, Read/Write External EEPROM, Full Read/Full Write Clone/Restore (only through service)
Skoda Continental Simos PCR2.1 Bench: Read/Write/Checksum Internal Flash, Read/Write External EEPROM, Full Read/Full Write Clone/Restore (only through service)
Subaru Hitachi DEF00x OBD: Read/Write/Checksum Maps
Troller Siemens SID901 OBD: Read/Write/Checksum Maps
Vauxhall Bosch PSG16 OBD: Virtual Read/Read (only by pinout)/Write/Checksum Flash
Vauxhall Bosch PSG16 Bench: Read/Write/Checksum Flash, Read/Write External EEPROM, Full Read/Full Write Clone/Restore
Vauxhall Delco E39A OBD: Read/Write/Checksum Maps
Vauxhall Delco E83 OBD: Read/Write/Checksum Maps
Vauxhall Delco E83A OBD: Read/Write/Checksum Maps
Vauxhall Delco E83B OBD: Read/Write/Checksum Maps
Volkswagen (VW) Continental Simos PCR2.1 Bench: Read/Write/Checksum Internal Flash, Read/Write External EEPROM, Full Read/Full Write Clone/Restore (only through service)
Volvo Siemens SID206 OBD: Read/Write/Checksum Maps
Bugfixes:
GM Bosch EDC16C39 Bench & BDM: added another CRC type
MB Bosch EDC17CP46 OBD: added support for new type of sw
VAG Bosch EDC17CP20 OBD: fixed an issue where sw would freeze at identification
Volvo Continental SID807EVO Boot: fixed pass reading issue on some models
Software Improvements:
FLEX GUI: added turkish language
FLEX GUI: improved general checksum logic for all protocols
MMS Helpdesk: added spanish language
MMS Helpdesk: added french language
VAG Continental Simos PCR2.1 Boot: improved pass reading method