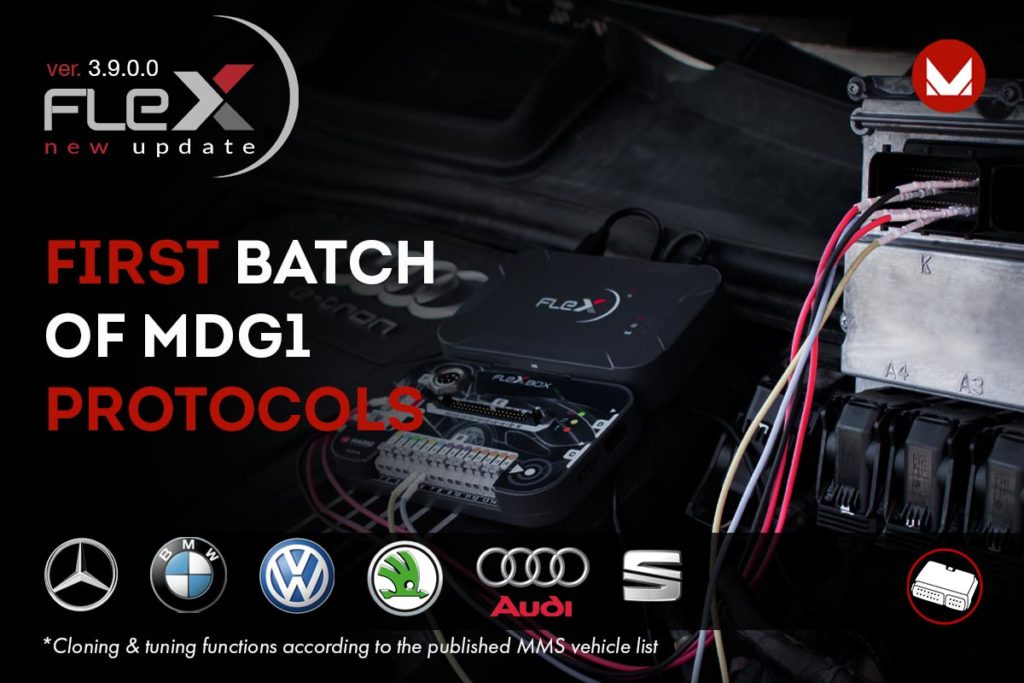 The newest generation of Bosch ECUs , MD1 & MG1, are now available for FLEX
MAGIC gives you a COMPLETE TUNING SOLUTION!
Mechatronics, the wait is over, MAGICMOTORSPORT has released new solutions for Bosch MD1 & MG1 control units.
These protocols support the latest generation of ECUs present in BMWs as well as many models of Mercedes and VAG and more MD1 & MG1 options from other brands will be soon to follow.
The real news is that the 3.9.0.0 FLEX release allows you to make a full backup of the MD1 and MG1 used in Mercedes and BMW vehicles, resulting in a perfect copy of your new ECU.
What's more, we have added Bench Tricore support for a few ECUs, OBD support for many VAG TCUs and clone (and tuning) options in Bootloader for Porsche PDK4000 TCUs that that are exclusively a FLEX solution.
Stay tuned!
New protocols added:
Audi Aisin AL450 (ZF 8HP) OBD: Read/Write/Checksum Maps
Audi Aisin AL551 (ZF 8HP) OBD: Read/Write/Checksum Maps
Audi Aisin AL651 (ZF 6HP) OBD: Read/Write/Checksum Maps
Audi Aisin AL951 (ZF 8HP) OBD: Read/Write/Checksum Maps
Audi Aisin AL1000 (3.0 TDI Touareg/Q7/Cayenne TCU) OBD: Read/Write/Checksum Maps
Audi Bosch MG1CS001 SPC5777 (2.0 / 2.9 / 3.0 TFSI) Bench: Read/Write/Checksum Internal Flash, Read/Write Internal EEPROM, Full Read/Full Write Backup/Restore
Audi Bosch MD1CP004 SPC5777 (Q7 e-tron) Bench: Read/Write/Checksum Internal Flash, Read/Write Internal EEPROM, Full Read/Full Write Backup/Restore
Audi Bosch MG1CS011 SPC5777 (1.0 / 1.5 TFSI) Bench: Read/Write/Checksum Internal Flash, Read/Write Internal EEPROM, Full Read/Full Write Backup/Restore
Audi Continental Simos 8.4 OBD: Virtual Read/Write/Checksum/Write Update (.FRF) Maps
Audi Continental Simos 8.5 OBD: Virtual Read/Write/Checksum/Write Update (.FRF) Maps
BMW Bosch ME17.2.1 TC1796 Bench: Read/Write/Checksum Internal Flash, Read/Write/Checksum Internal EEPROM, Full Read/Full Write Clone/Restore
BMW Bosch ME17.2.1 TC1796 Boot: Read/Write/Checksum Internal Flash, Read/Write/Checksum Internal EEPROM, Full Read/Full Write Clone/Restore
BMW Bosch MD1CP002 SPC5777 Bench: Read/Write/Checksum Internal Flash, Read/Write Internal EEPROM, Full Read/Full Write Clone/Restore
BMW Bosch MG1CS003 SPC5777 Bench: Read/Write/Checksum Internal Flash, Read/Write Internal EEPROM, Full Read/Full Write Clone/Restore
Ford Bosch ME9.0 MPC562 BDM: Read/Write/Checksum External Flash M58BW016, Read/Write External EEPROM 95080, Full Read/Full Write Clone/Restore
Ford Visteon DCUxxx OBD: Read/Write/Checksum Maps
JMC Bosch EDC17C81 TC1782 (JMC 2.8 Turbodiesel) Boot: Read/Write/Checksum Internal Flash, Read/Write/Checksum Internal EEPROM, Full Read/Full Write Clone/Restore
Land Rover Visteon DCUxxx OBD: Read/Write/Checksum Maps
MB Bosch MD1CP002 SPC5777 (200d / 220d / 350 d) Bench: Read/Write/Checksum Internal Flash, Read/Write Internal EEPROM, Full Read/Full Write Backup/Restore
Porsche Aisin AL1000 (3.0 TDI Touareg/Q7/Cayenne TCU) OBD: Read/Write/Checksum Maps
Porsche Continental PDK4000 TC1767 (Porsche Cayman/Boxster 718) Boot: Read/Write/Checksum Internal Flash, Read/Write Internal EEPROM, Full Read/Full Write Clone/Restore
Porsche Continental Simos 8.5 OBD: Virtual Read/Write/Checksum/Write Update (.FRF) Maps
Rolls Royce Bosch MG1CS003 SPC5777 Bench: Read/Write/Checksum Internal Flash, Read/Write Internal EEPROM, Full Read/Full Write Clone/Restore
Seat Bosch MG1CS011 SPC5777 (1.0 / 1.5 TSI) Bench: Read/Write/Checksum Internal Flash, Read/Write Internal EEPROM, Full Read/Full Write Backup/Restore
Skoda Bosch MG1CS011 SPC5777 (1.0 / 1.5 TSI) Bench: Read/Write/Checksum Internal Flash, Read/Write Internal EEPROM, Full Read/Full Write Backup/Restore
Volkswagen (VW) Aisin AL1000 (3.0 TDI Touareg/Q7/Cayenne TCU) OBD: Read/Write/Checksum Maps
Volkswagen (VW) Bosch MG1CS011 SPC5777 (1.0 / 1.5 TSI) Bench: Read/Write/Checksum Internal Flash, Read/Write Internal EEPROM, Full Read/Full Write Backup/Restore
Volkswagen (VW) Continental Simos 8.5 OBD: Virtual Read/Write/Checksum/Write Update (.FRF) Maps
Volvo Bosch ME9.0 MPC562 BDM: Read/Write/Checksum External Flash M58BW016, Read/Write External EEPROM 95080, Full Read/Full Write Clone/Restore
Volvo Denso MB279700-9611 SH72546R OBD Read/Write/Checksum Maps (after unlock via bench!)
Volvo Denso MB279700-9641 SH72546R OBD: Read/Write/Checksum Maps (after unlock via bench!)
Software Improvements:
Volvo Denso MB279700-9611 SH72546: Added unlock function in bench protocol to allow writing mods (this applies to both OBD and bench protocols)
Volvo Denso MB279700-9641 SH72546: Added unlock function in bench protocol to allow writing mods (this applies to both OBD and bench protocols)