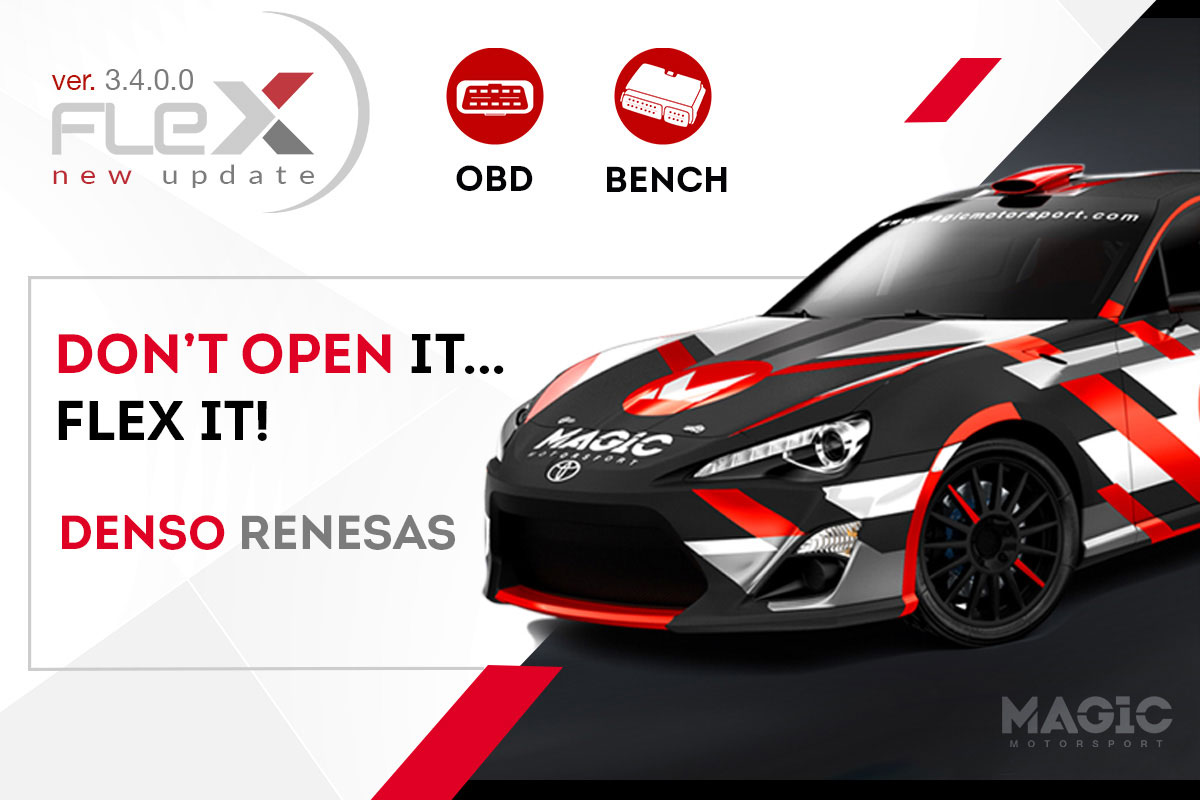 FLEX release ver. 3.4.0.0 – Denso ECUs (with Renesas processor) are now available by OBD and bench modes!
This OBD & bench protocol is an exclusive of Flex, and can be considered an improvement of the bench protocol for Tricore-based BOSCH ECUs. Fast, safe and able to both tune and clone, this new solution will change the way most mechatronics work in their daily life.
At the moment we support many new ECUs – some of them are not even possible by any other protocol. It is also the first world solution for Volvo Denso with SH72543 processor (for example Volvo V40 2.0 T 2016): you can now tune them and clone them without even looking at the engine bay!
We are working to add more models with next updates!
OBD & Bench Denso Renesas
What is that?
The Renesas processors are usually found on japanese-built control units and are quite common more on japanese vehicles than on their western counterparts.
The most famous families are SH705x and SH725xx, which are widely used from 2005 to today. Denso is a ECU manufacturer that vastly uses Renesas processors.
These OBD & bench protocols allow for full ECU access: both internal flash and internal EEPROM can be entirely read and written as a backup file for cloning and restoring purposes, and Flex allows to read and write maps directly, as well as calculate checksum for all the tuning enthusiasts.
At the moment the special protocol seems to work on specific ECUs, but we are constantly expanding our technology and we are already looking for some extra unit to add to the list. Stay tuned for more surprises!
Special features: 
Those are all exclusive protocols for Flex, never seen on X17 – and never seen at all in the field. High programming speed, combined with OBD mode – the most easy working method allow for faster, safer and more cost-efficient jobs, increasing considerably the quality of your workday. Some of these ECUs are too complicated to open and work in AUD or JTAG modes – in these cases, don't open them, you do not even need to see the ECU – just Flex them!
Which software package should I purchase?
Most of those protocols (only exception are those dedicated to Kubota tractors) are free of charge for all owners of OBD/Bench protocols, and owners of X17 (upgrade can still be done for 195€ + VAT).
Contact the Sales Department via chat at www.magicmotorsport.com or send an email to info@magicmotorsport.com to purchase the OBD/Bench protocols for ECUs (car, bikes, vans) package (FLS0.1M/S) or the dedicated Renesas package (FLS0.6M/S), which will have in future also support for AUD mode and includes all protocols in OBD & bench mode as well: that will be ideal for any Renesas based control unit.
New protocols added:
Audi Bosch MED17.5.21 OBD UDS: Virtual Read/Write/Checksum Maps, Write Update (FRF)
Audi Continental Simos 12.1 TC1797 Boot: Read/Write/Checksum Maps, Read/Write Internal EEPROM, Full Read/Full Write (for backup/restore)
Audi Continental Simos 12.2 TC1797 Boot: Read/Write/Checksum Maps, Read/Write Internal EEPROM, Full Read/Full Write (for backup/restore)
Audi Continental Simos 18.1 TC1791 Boot: Read/Write/Checksum Maps, Read/Write Internal EEPROM, Full Read/Full Write (for backup/restore)
Audi Continental Simos 18.2 TC1791 Boot: Read/Write/Checksum Maps, Read/Write Internal EEPROM, Full Read/Full Write (for backup/restore)
Audi Continental Simos 18.3 TC1791 Boot: Read/Write/Checksum Maps, Read/Write Internal EEPROM, Full Read/Full Write (for backup/restore)
Audi Continental Simos 18.6 TC1791 Boot: Read/Write/Checksum Maps, Read/Write Internal EEPROM, Full Read/Full Write (for backup/restore)
BMW Continental MSD80 TC1796 Bench: Read/Write/Checksum Internal Flash, Read/Write Internal EEPROM, Read/Write External EEPROM 95640
BMW Continental MSD81 TC1796 Bench: Read/Write/Checksum Internal Flash, Read/Write Internal EEPROM, Read/Write External EEPROM 95640
BMW Continental MSD85 TC1796 Bench: Read/Write/Checksum Internal Flash, Read/Write External EEPROM 95128
BMW Continental MSD87 TC1796 Bench: Read/Write/Checksum Internal Flash, Read/Write Internal EEPROM, Read/Write External EEPROM 95128
BMW Continental MSV90 TC1796 Bench: Read/Write/Checksum Internal Flash, Read/Write Internal EEPROM
Dacia Bosch EDC17CP19 TC1766 Bench: Read/Write/Checksum Internal Flash, Read/Write/Checksum Internal EEPROM
Dacia Bosch EDC17CP19 TC1766 Boot: Read/Write/Checksum Internal Flash, Read/Write/Checksum Internal EEPROM
Ford Bosch EDC17CP65 TC1793 Bench: Read/Write/Checksum Internal Flash, Read/Write/Checksum Internal EEPROM
Ford Bosch EDC17CP65 TC1793 Boot: Read/Write/Checksum Internal Flash, Read/Write/Checksum Internal EEPROM
Hyundai Bosch ME17.9.11.1 TC1766 Bench: Read/Write/Checksum Internal Flash, Read/Write/Checksum Internal EEPROM
Hyundai Bosch ME17.9.11.1 TC1766 Boot: Read/Write/Checksum Internal Flash, Read/Write/Checksum Internal EEPROM
Kia Bosch ME17.9.11.1 TC1766 Bench: Read/Write/Checksum Internal Flash, Read/Write/Checksum Internal EEPROM
Kia Bosch ME17.9.11.1 TC1766 Boot: Read/Write/Checksum Internal Flash, Read/Write/Checksum Internal EEPROM
Kubota Denso SH72543 OBD: Read/Write/Checksum Maps, Read/Write Internal EEPROM, Full Read/Full Write Backup (for clone/restore)
Kubota Denso SH72543 Bench: Read/Write/Checksum Maps, Read/Write Internal EEPROM, Full Read/Full Write Backup (for clone/restore)
Mazda Denso Pxxx SH72543 OBD: Read/Write/Checksum Maps, Read/Write Internal EEPROM, Full Read/Full Write Backup (for clone/restore)
Mazda Denso Pxxx SH72543 Bench: Read/Write/Checksum Maps, Read/Write Internal EEPROM, Full Read/Full Write Backup (for clone/restore)
Mazda Denso Sxx SH72546 OBD: Read/Write/Checksum Maps, Read/Write Internal EEPROM, Full Read/Full Write Backup (for clone/restore)
Mazda Denso Sxx SH72546 Bench: Read/Write/Checksum Maps, Read/Write Internal EEPROM, Full Read/Full Write Backup (for clone/restore)
Mazda Denso SHxx SH72543 OBD: Read/Write/Checksum Maps, Read/Write Internal EEPROM, Full Read/Full Write Backup (for clone/restore)
Mazda Denso SHxx SH72543 Bench: Read/Write/Checksum Maps, Read/Write Internal EEPROM, Full Read/Full Write Backup (for clone/restore)
Nissan Denso Pxxx SH72543 OBD: Read/Write/Checksum Maps, Read/Write Internal EEPROM, Full Read/Full Write Backup (for clone/restore)
Nissan Denso Pxxx SH72543 Bench: Read/Write/Checksum Maps, Read/Write Internal EEPROM, Full Read/Full Write Backup (for clone/restore)
Porsche Siemens SDI3 TC1796 Boot: Read/Write/Checksum Internal Flash
Porsche Siemens SDI4 TC1796 Boot: Read/Write/Checksum Internal FlashPorsche Continental SDI10.2 TC1797 Boot: Read/Write/Checksum Internal Flash, Read/Write External EEPROM 95256
Porsche Continental SDI10.4 TC1797 Boot: Read/Write/Checksum Internal Flash, Read/Write External EEPROM 95256
Porsche Continental SDI21.1 TC1791 Boot: Read/Write/Checksum Internal Flash, Read/Write Internal EEPROM
Porsche Continental SDI21.2 TC1791 Boot: Read/Write/Checksum Internal Flash, Read/Write Internal EEPROM
Renault Bosch EDC17CP19 TC1766 Bench: Read/Write/Checksum Internal Flash, Read/Write/Checksum Internal EEPROM
Renault Bosch EDC17CP19 TC1766 Boot: Read/Write/Checksum Internal Flash, Read/Write/Checksum Internal EEPROM
Saab Bosch EDC17CP19 TC1766 Bench: Read/Write/Checksum Internal Flash, Read/Write/Checksum Internal EEPROM
Saab Bosch EDC17CP19 TC1766 Boot: Read/Write/Checksum Internal Flash, Read/Write/Checksum Internal EEPROM
Seat Bosch MED17.5.21 OBD UDS: Virtual Read/Write/Checksum Maps, Write Update (FRF)
Seat Continental Simos 12.1 TC1797 Boot: Read/Write/Checksum Internal Flash, Read/Write Internal EEPROM
Seat Continental Simos 12.2 TC1797 Boot: Read/Write/Checksum Internal Flash, Read/Write Internal EEPROM
Seat Continental Simos 18.1 TC1791 Boot: Read/Write/Checksum Internal Flash, Read/Write Internal EEPROM
Seat Continental Simos 18.3 TC1791 Boot: Read/Write/Checksum Internal Flash, Read/Write Internal EEPROM
Skoda Bosch MED17.5.21 OBD UDS: Virtual Read/Write/Checksum Maps, Write Update (FRF)Skoda Continental Simos 12.1 TC1797 Boot: Read/Write/Checksum Internal Flash, Read/Write Internal EEPROM
Skoda Continental Simos 12.2 TC1797 Boot: Read/Write/Checksum Internal Flash, Read/Write Internal EEPROM
Skoda Continental Simos 18.1 TC1791 Boot: Read/Write/Checksum Internal Flash, Read/Write Internal EEPROM
Skoda Continental Simos 18.2 TC1791 Boot: Read/Write/Checksum Internal Flash, Read/Write Internal EEPROM
Skoda Continental Simos 18.6 TC1791 Boot: Read/Write/Checksum Internal Flash, Read/Write Internal EEPROM
Subaru Denso 896xx SH72531 OBD: Read/Write/Checksum Maps, Read/Write Internal EEPROM, Full Read/Full Write Backup (for clone/restore)
Subaru Denso 896xx SH72531 Bench: Read/Write/Checksum Maps, Read/Write Internal EEPROM, Full Read/Full Write Backup (for clone/restore)
Toyota Denso Pxxx SH72543 OBD: Read/Write/Checksum Maps, Read/Write Internal EEPROM, Full Read/Full Write Backup (for clone/restore)
Toyota Denso Pxxx SH72543 Bench: Read/Write/Checksum Maps, Read/Write Internal EEPROM, Full Read/Full Write Backup (for clone/restore)
Toyota Denso 896xx SH72531 OBD: Read/Write/Checksum Maps, Read/Write Internal EEPROM, Full Read/Full Write Backup (for clone/restore)
Toyota Denso 896xx SH72531 Bench: Read/Write/Checksum Maps, Read/Write Internal EEPROM, Full Read/Full Write Backup (for clone/restore)Valtra
Bosch EDC17CV54 TC1797 Bench: Read/Write/Checksum Internal Flash, Read/Write/Checksum Internal EEPROM
Valtra Bosch EDC17CV54 TC1797 Boot: Read/Write/Checksum Internal Flash, Read/Write/Checksum Internal EEPROM
Volkswagen (VW) Bosch MED17.5.21 OBD UDS: Virtual Read/Write/Checksum Maps, Write Update (FRF)
Volkswagen (VW) Continental Simos 12.1 TC1797 Boot: Read/Write/Checksum Internal Flash, Read/Write Internal EEPROM
Volkswagen (VW) Continental Simos 12.2 TC1797 Boot: Read/Write/Checksum Internal Flash, Read/Write Internal EEPROM
Volkswagen (VW) Continental Simos 18.1 TC1791 Boot: Read/Write/Checksum Internal Flash, Read/Write Internal EEPROM
Volkswagen (VW) Continental Simos 18.2 TC1791 Boot: Read/Write/Checksum Internal Flash, Read/Write Internal EEPROM
Volkswagen (VW) Continental Simos 18.3 TC1791 Boot: Read/Write/Checksum Internal Flash, Read/Write Internal EEPROM
Volkswagen (VW) Continental Simos 18.6 TC1791 Boot: Read/Write/Checksum Internal Flash, Read/Write Internal EEPROM
Volkswagen (VW) Continental Simos 18.7 TC1791 Boot: Read/Write/Checksum Internal Flash, Read/Write Internal EEPROM
Volkswagen (VW) Continental Simos 18.10 TC1791 Boot: Read/Write/Checksum Internal Flash, Read/Write Internal EEPROM
Volvo Denso MB279700-9500 SH72543 OBD: Read/Write/Checksum Maps, Read/Write Internal EEPROM, Full Read/Full Write Backup (for clone/restore)
Volvo Denso MB279700-9500 SH72543 Bench: Read/Write/Checksum Maps, Read/Write Internal EEPROM, Full Read/Full Write Backup (for clone/restore)
Bugfixes:
MB EDC17C43 OBD: fixed a writing issue
Renault EDC16CP33: reimplemented support for hw version 6.7 properly
VAG EDC16CP34 BDM: external flash writing error fixed
Software Improvements:
Mercedes Bosch EDC17CP01 TC1796: added manual for second version (with inverted CANs)
VAG Continental DL501 Gen2 Bench: added new CRC
OBD mode: general improvement
GUI: added Korean language
GUI: added Portoguese language
GUI: added Russian language
Tutorial: now can be done without connecting the tool
Vehicle list: general improvement