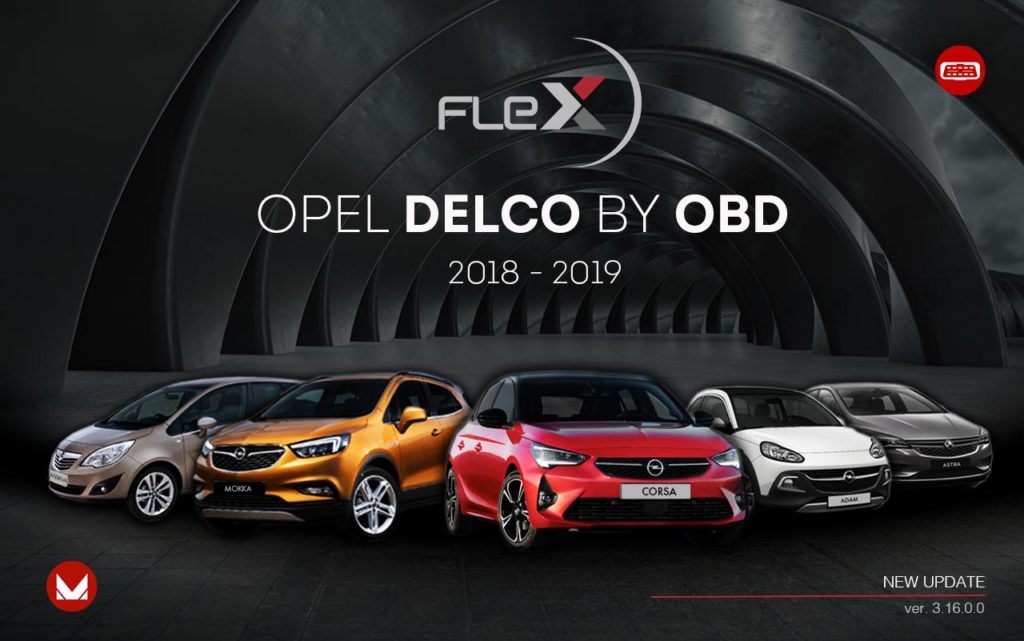 Flex ver 3.16.0.0: OBD solutions for Delco ECUs on 2018/2019 vehicles!
MAGICMOTORSPORT releases new OBD protocols to program Delco E78, E80, E98 ECUs used on General Motors group vehicles including MY2018-2019: Opel. Buick. Cadillac, Chevrolet, Holden, Vauxhall.
More about Opel vehicles: FLEX now supports MD1CS003 Bosch ECUs by Bench, used also on PSA vehicles (engine 1.5 L diesel) and in OBD mode the Bosch MEVD17.4.x for Citroën and Peugeot.
Added on Flex version 3.16.0.0 more OBD solutions for EDC16C32, ME9.7 and MED9.7 Bosch ECUs as well as Siemens SIM266, mounted on Mercedes vehicles.
Added on FLEX vehicle list also the OBD protocol for Kia diesel models using Delphi DCM3.2 ECU (real read).
New protocols added:
BMW Continental MSD80 TC1796 Boot: Read/Write/Checksum Maps, Read/Write Internal EEPROM, Read/Write External EEPROM 95640, Full Read/Full Write Clone/Restore
BMW Continental MSD81 TC1796 Boot: Read/Write/Checksum Maps, Read/Write Internal EEPROM, Read/Write External EEPROM 95640, Full Read/Full Write Clone/Restore
BMW Continental MSD85 TC1796 Boot: Read/Write/Checksum Maps, Read/Write Internal EEPROM, Read/Write External EEPROM 95128, Full Read/Full Write Clone/Restore
BMW Continental MSD87 TC1796 Boot: Read/Write/Checksum Maps, Read/Write Internal EEPROM, Read/Write External EEPROM 95128, Full Read/Full Write Clone/Restore
BMW Continental MSV80 TC1796 Boot: Read/Write/Checksum Maps, Read/Write Internal EEPROM, Read/Write External EEPROM 95640, Full Read/Full Write Clone/Restore
BMW Continental MSV90 TC1796 Boot: Read/Write/Checksum Maps, Read/Write Internal EEPROM, Read/Write External EEPROM 95128, Full Read/Full Write Clone/Restore
Buick Delco E78 OBD: Read/Write/Checksum Maps (including MY2018-2019)
Buick Delco E80 OBD: Read/Write/Checksum Maps (including MY2018-2019)
Cadillac Delco E80 OBD: Read/Write/Checksum Maps (including MY2018-2019)
Chevrolet Delco E78 OBD: Read/Write/Checksum Maps (including MY2018-2019)
Chevrolet Delco E80 OBD: Read/Write/Checksum Maps (including MY2018-2019)
Chevrolet Delco E87 OBD: Read/Write/Checksum Maps
Chevrolet Delco E98 OBD: Read/Write/Checksum Maps (including MY2018)
Citroen Bosch MD1CS003 TC298TP Bench: Read/Write/Checksum Internal Flash, Read/Write Internal EEPROM, Full Read/Full Write Backup/Restore
Citroen Bosch MED17.4 OBD KWP: Read/Write/Checksum Maps
Citroen Bosch MEV17.4 OBD KWP: Read/Write/Checksum Maps
Citroen Bosch MED17.4.2 OBD KWP: Read/Write/Checksum Maps
Citroen Bosch MEV17.4.2 OBD KWP: Read/Write/Checksum Maps
Citroen Bosch MEVD17.4.2 OBD KWP: Read/Write/Checksum Maps
Citroen Bosch MED17.4.4 OBD KWP: Read/Write/Checksum Maps
Citroen Bosch MEVD17.4.4 OBD KWP: Read/Write/Checksum Maps
Citroen Continental SID807EVO TC1797 Boot: Read/Write/Checksum Internal Flash, Read/Write Internal EEPROM, Full Read/Full Write Clone/Restore
GMC Delco E78 OBD: Read/Write/Checksum Maps (including MY2018-2019)
GMC Delco E80 OBD: Read/Write/Checksum Maps (including MY2018-2019)
GMC Delco E98 OBD: Read/Write/Checksum Maps (including MY2018)
Holden Delco E78 OBD: Read/Write/Checksum Maps (including MY2018-2019)
Holden Delco E80 OBD: Read/Write/Checksum Maps (including MY2018-2019)
Holden Delco E98 OBD: Read/Write/Checksum Maps (including MY2018)
Kia Delphi DCM3.2 OBD: Read/Write/Checksum Maps
Mercedes Bosch EDC16C32 OBD: Read/Write/Checksum Maps
Mercedes Bosch ME9.7 OBD: Read/Write/Checksum Maps
Mercedes Bosch MED9.7 OBD: Read/Write/Checksum Maps
Mercedes Bosch MED9.7 BDM: Read/Write/Checksum Flash, Read/Write External EEPROM, Full Read/Full Write Clone/Restore
Mercedes Continental SIM271DE TC1796 Boot: Read/Write/Checksum Maps, Read/Write Internal EEPROM, Read/Write External EEPROM 95128, Full Read/Full Write Clone/Restore
Mercedes Siemens SIM266 OBD: Virtual Read/Write/Checksum Maps
Mercedes Siemens SIM271KE TC1796 Boot: Read/Write/Checksum Maps, Read/Write Internal EEPROM, Read/Write External EEPROM 95128, Full Read/Full Write Clone/Restore
Opel Bosch MD1CS003 TC298TP Bench: Read/Write/Checksum Internal Flash, Read/Write Internal EEPROM, Full Read/Full Write Backup/Restore
Opel Delco E78 OBD: Read/Write/Checksum Maps (including MY2018-2019)
Opel Delco E80 OBD: Read/Write/Checksum Maps (including MY2018-2019)
Opel Delco E87 OBD: Read/Write/Checksum Maps
Opel Delco E98 OBD: Read/Write/Checksum Maps (including MY2018)
Peugeot Bosch MD1CS003 TC298TP Bench: Read/Write/Checksum Internal Flash, Read/Write Internal EEPROM, Full Read/Full Write Backup/Restore
Peugeot Bosch MED17.4 OBD KWP: Read/Write/Checksum Maps
Peugeot Bosch MEV17.4 OBD KWP: Read/Write/Checksum Maps
Peugeot Bosch MED17.4.2 OBD KWP: Read/Write/Checksum Maps
Peugeot Bosch MEV17.4.2 OBD KWP: Read/Write/Checksum Maps
Peugeot Bosch MEVD17.4.2 OBD KWP: Read/Write/Checksum Maps
Peugeot Bosch MED17.4.4 OBD KWP: Read/Write/Checksum Maps
Peugeot Bosch MEVD17.4.4 OBD KWP: Read/Write/Checksum Maps
Peugeot Continental SID807EVO TC1797 Boot: Read/Write/Checksum Internal Flash, Read/Write Internal EEPROM, Full Read/Full Write Clone/Restore
Smart Bosch EDC16C32 OBD: Read/Write/Checksum Maps
Vauxhall Bosch MD1CS003 TC298TP Bench: Read/Write/Checksum Internal Flash, Read/Write Internal EEPROM, Full Read/Full Write Backup/Restore
Vauxhall Delco E78 OBD: Read/Write/Checksum Maps (including MY2018-2019)
Vauxhall Delco E80 OBD: Read/Write/Checksum Maps (including MY2018-2019)
Vauxhall Delco E87 OBD: Read/Write/Checksum Maps
Vauxhall Delco E98 OBD: Read/Write/Checksum Maps (including MY2018)
Bugfixes:
JLR Bosch MEDC17.9 OBD: reading issue solved
Mitsubishi Bosch EDC17CP15 Bench & Boot: added support for external flash
Software Improvements:
BMW Bosch MD1CS001 Bench: added new CRC type
BMW Bosch MG1CS002 Bench: added new CRC type
MB Temic VGS2-FDCT Bench: added new CRC type
PSA Bosch MEVD17.4 Bench & Boot: added support for other HWs
Toyota Denso 896xx OBD: added support for slow init types (older KLINE models)
VAG Bosch EDC17CP04 & EDC17CP14 OBD: fixed a issue on read
VAG Continental Simos 12 & Simos 18 Boot: added support for entire flash (instead of map area only)