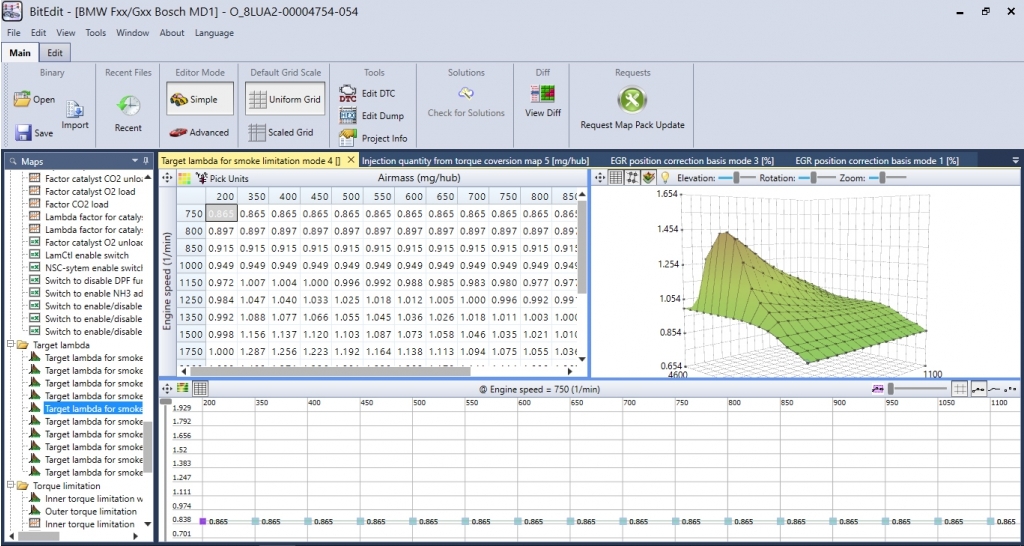 New software module for editing calibrations of Bosch MD1 ECUs of diesel BMW vehicles. Supports all required maps for remapping, EGR, DPF removal, and also SCR (ADBlue) removal! DTC table also supported! 
Supported file size 7.5MB.
The following maps are available for editing:
Air control: desired airmass, airmass correction
Boost pressure: desired boost pressure, boost pressure limitation by atmospheric pressure, boost controller duty cycle with limitations
DPF: DPF regenerations masks, DPF switch, exhaust pressure sensor flags, scalings, error voltage thresholds
EGR Control: EGR position corrections, lower/upper thresholds for enable EGR for all modes, maximal EGR position request
EGT sensors: all EGT sensors scalings, flags and error voltage thresholds
Injection: injector opening time, injection quantity from torque, post injection quantities, start of main injection angle, start of injection limiters
Rail pressure: PID-controller components, target rail pressure, rail pressure limitation, minimal rail pressure for start, rail pressure regulator
SCR (ADBlue): Catalyst load/unload factors, switches for NOx, ADBlue injection, lambda regulation, NSC, LamCtl
Target lambda: Target lambda for smoke limitation
Torque limitation: main inner and outer torque limiters, torque limitation in system errors, torque limitation by EGT, exhaust pressure, fuel temperature
Requested torque: requested torque, accelerator pedal maps for ECO,Sport,Sport+ modes, requested torque reducing by ECT and atmospheric pressure
DTC mask
View Full Range of modules here.