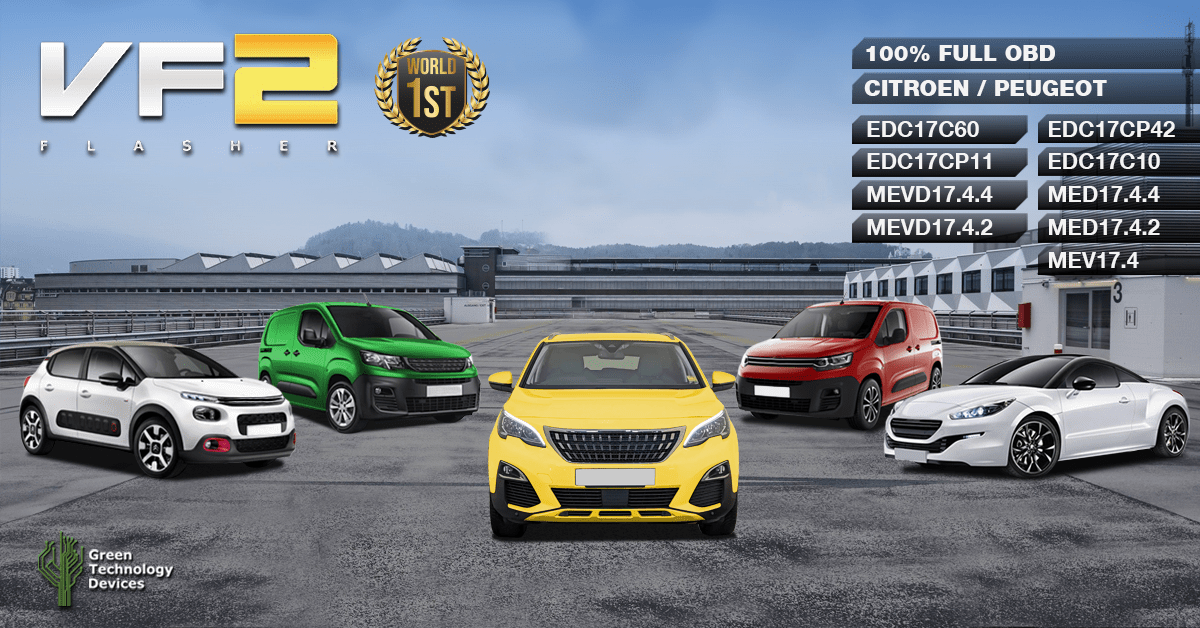 ---
OBD ( 100% via the OBD2 diagnostic plug; no unlocking; no patching; FULL Access )
CITROEN BOSCH EDC17C60 TC1793: Read + Write ( All[Backup] / Int. Flash / Int. Eeprom ) / Recovery / Checksum(s) / Clone
OPEL BOSCH EDC17C60 TC1793: Read + Write ( All[Backup] / Int. Flash / Int. Eeprom ) / Recovery / Checksum(s) / Clone
TOYOTA BOSCH EDC17C60 TC1793: Read + Write ( All[Backup] / Int. Flash / Int. Eeprom ) / Recovery / Checksum(s) / Clone
PEUGEOT BOSCH EDC17C60 TC1793: Read + Write ( All[Backup] / Int. Flash / Int. Eeprom ) / Recovery / Checksum(s) / Clone
CITROEN BOSCH EDC17CP42 TC1797: Read + Write ( All[Backup] / Int. Flash / Int. Eeprom ) / Recovery / Checksum(s) / Clone
PEUGEOT BOSCH EDC17CP42 TC1797: Read + Write ( All[Backup] / Int. Flash / Int. Eeprom ) / Recovery / Checksum(s) / Clone
CITROEN BOSCH EDC17CP11 TC1796: Read + Write ( All[Backup] / Int. Flash / Int. Eeprom / S29CL016 Ext. Flash ) / Recovery / Checksum(s)
PEUGEOT BOSCH EDC17CP11 TC1796: Read + Write ( All[Backup] / Int. Flash / Int. Eeprom / S29CL016 Ext. Flash ) / Recovery / Checksum(s)
CITROEN BOSCH EDC17C10 TC1797: Read + Write ( All[Backup] / Int. Flash / Int. Eeprom ) / Recovery / Checksum(s) / Clone
PEUGEOT BOSCH EDC17C10 TC1797: Read + Write ( All[Backup] / Int. Flash / Int. Eeprom ) / Recovery / Checksum(s) / Clone
CITROEN BOSCH EDC17C10 TC1796: Read + Write ( All[Backup] / Int. Flash / Int. Eeprom / S29CL016 Ext. Flash ) / Recovery / Checksum(s) / Clone
PEUGEOT BOSCH EDC17C10 TC1796: Read + Write ( All[Backup] / Int. Flash / Int. Eeprom / S29CL016 Ext. Flash ) / Recovery / Checksum(s) / Clone
CITROEN BOSCH MEVD17.4.4 TC1793: Read + Write ( All[Backup] / Int. Flash / Int. Eeprom ) / Recovery / Checksum(s) / Clone
PEUGEOT BOSCH MEVD17.4.4 TC1793: Read + Write ( All[Backup] / Int. Flash / Int. Eeprom ) / Recovery / Checksum(s) / Clone
CITROEN BOSCH MED17.4.4 TC1793: Read + Write ( All[Backup] / Int. Flash / Int. Eeprom ) / Recovery / Checksum(s) / Clone
PEUGEOT BOSCH MED17.4.4 TC1793: Read + Write ( All[Backup] / Int. Flash / Int. Eeprom ) / Recovery / Checksum(s) / Clone
CITROEN BOSCH MEVD17.4.2 TC1797: Read + Write ( All[Backup] / Int. Flash / Int. Eeprom ) / Recovery / Checksum(s) / Clone
PEUGEOT BOSCH MEVD17.4.2 TC1797: Read + Write ( All[Backup] / Int. Flash / Int. Eeprom ) / Recovery / Checksum(s) / Clone
CITROEN BOSCH MED17.4.2 TC1767: Read + Write ( All[Backup] / Int. Flash / Int. Eeprom ) / Recovery / Checksum(s) / Clone
PEUGEOT BOSCH MED17.4.2 TC1767: Read + Write ( All[Backup] / Int. Flash / Int. Eeprom ) / Recovery / Checksum(s) / Clone
CITROEN BOSCH MEV17.4 TC1766: Read + Write ( All[Backup] / Int. Flash / Int. Eeprom ) / Recovery / Checksum(s) / Clone
PEUGEOT BOSCH MEV17.4 TC1766: Read + Write ( All[Backup] / Int. Flash / Int. Eeprom ) / Recovery / Checksum(s) / Clone
FEATURES:
The OBD protocols read and write same contents as BENCH service mode protocols, FULL Int. Flash / FULL Int. Eeprom / FULL Ext. Flash.
When using file from a different control unit the protocol will warn you about such fact and ask you how do you wish to proceed – for safety purposes.
For latest vehicles with automatic gearboxes the gearbox DTCs are automatically cleared after any operation so that gearbox runs smoothly.
Reading time for FULL BACKUP of EDC17C60 is arround 3 minutes and 20 seconds, with the radio off it is even faster!
Writing time is usually a lot faster than that and depends on file modifications – usually arround 30 seconds.
Don't worry, you can be at the dyno with your laptop the whole time if you wish so, no need for you to go up and downstairs all the time, the reflash counters do not increase!
CAR Citroen Berlingo (II) 1.6 BlueHDi DLD-416 DV6FD 73 kW/98 HP Diesel 2015+ Bosch EDC17C60
CAR Citroen Berlingo (II) 1.6 HDI 9HN (DV6ETED) 55 kW/74 HP Diesel 2008+ Bosch EDC17C10
CAR Citroen Berlingo (II) 1.6 HDI 9HP (DV6DTED) 66 kW/89 HP Diesel 2010+ Bosch EDC17C10
CAR Citroen Berlingo (II) 1.6 HDI 9HP (DV6DTED) 81 kW/109 HP Diesel 2010+ Bosch EDC17C10
CAR Citroen C3 (A51) 1400 VTi 5FS (EP6C) Petrol Bosch MEV17.4
CAR Citroen C3 (A51) 1400 VTi 8FS Petrol Bosch MEV17.4
CAR Citroen C3 (II) 1.6 8v BlueHDI 75 DLD-416 BHW (DV6FE) 55 kW/74 HP Diesel 2014-2015+ Bosch EDC17C60
CAR Citroen C3 (II) 1.6 HDI 9HP (DV6DTED) 66 kW/89 HP Diesel 2009+ Bosch EDC17C10
CAR Citroen C3 (III) 1.6 8v BlueHDI 75 DLD-416 BHW (DV6FE) 55 kW/74 HP Diesel 2016-2018+ Bosch EDC17C60
CAR Citroen C3 Picasso 1.6 HDI 9HP (DV6DTED) 68 kW/91 HP Diesel 2010+ Bosch EDC17C10
CAR Citroen C4 1.6 HDI 9HP (DV6DTED) 66 kW/89 HP Diesel 2009+ Bosch EDC17C10
CAR Citroen C4 1.6 16v THP 5FT (EP6DT) 103 kW/138 HP Petrol 2008+ Bosch MED17.4.2
CAR Citroen C4 1.6 16v THP 5FX (EP6DT) 110 kW/148 HP Petrol 2008+ Bosch MED17.4.2
CAR Citroen C4 1.6 16v THP 5FV (EP6CDT) 114 kW/153 HP Petrol 2009+ Bosch MED17.4.2
CAR Citroen C4 (B71) 1400 VTi 8FS Petrol Bosch MEV17.4
CAR Citroen C4 (B71) 1600 VTi 5FS (EP6C) Petrol Bosch MEV17.4
CAR Citroen C4 Coupe 1.6 16v THP 5FX (EP6DT) 110 kW/148 HP Petrol 2008+ Bosch MED17.4.2
CAR Citroen C4 Grand Picasso 1.6 16v THP 5FT (EP6DT) 103 kW/138 HP Petrol 2008+ Bosch MED17.4.2
CAR Citroen C4 Grand Picasso 1.6 16v THP 5FX (EP6DT) 110 kW/148 HP Petrol 2008+ Bosch MED17.4.2
CAR Citroen C4 Picasso 1.6 16v THP 5FT (EP6DT) 103 kW/138 HP Petrol 2008+ Bosch MED17.4.2
CAR Citroen C4 Picasso 1.6 16v THP 5FX (EP6DT) 110 kW/148 HP Petrol 2008+ Bosch MED17.4.2
CAR Citroen C4 Picasso 1.6 16v THP 5FX (EP6DT) 114 kW/153 HP Petrol 2010+ Bosch MED17.4.2
CAR Citroen C4 Cactus 1.6 Hdi DLD-416 DV6FD 73 kW/98 HP Diesel 2014-2018+ Bosch EDC17C60
CAR Citroen C4 Cactus 1.6 Hdi DLD-416 DV6D 68 kW/91 HP Diesel 2014-2018+ Bosch EDC17C60
CAR Citroen C5 2.2 HDI 4HL (DW12C) 150 kW/201 HP Diesel 2010+ Bosch EDC17CP42
CAR Citroen C5 3.0 TDV6 DT20C Diesel 2009+ Bosch EDC17CP11
CAR Citroen C5 1.6 16v THP 5FV (EP6DT) 114 kW/153 HP Petrol 2009+ Bosch MED17.4.2
CAR Citroen C-Elysee (II) 1.6 BlueHDi DLD-416 BH02 (DV6FD) 73 kW/98 HP Diesel 2016+ Bosch EDC17C60
CAR Citroen DS3 1.6 8v BlueHDI 75 DLD-416 BHW (DV6FE) 55 kW/74 HP Diesel 2014-2015+ Bosch EDC17C60
CAR Citroen DS3 1.6 8v BlueHDI 100 DLD-416 BHY (DV6FD) 73 kW/98 HP Diesel 2014-2015+ Bosch EDC17C60
CAR Citroen DS3 1.6 8v BlueHDI 115 DLD-416 BHX (DV6FD) 85 kW/114 HP Diesel 2014-2015+ Bosch EDC17C60
CAR Citroen DS3 1.6 8v BlueHDI 120 DLD-416 BHZ (DV6FC) 88 kW/118 HP Diesel 2014-2015+ Bosch EDC17C60
CAR Citroen DS3 1.6 8v Cabrio BlueHDI 75 DLD-416 BHW (DV6FE) 55 kW/74 HP Diesel 2014-2015+ Bosch EDC17C60
CAR Citroen DS3 1.6 8v Cabrio BlueHDI 100 DLD-416 BHY (DV6FD) 73 kW/98 HP Diesel 2014-2015+ Bosch EDC17C60
CAR Citroen DS3 1.6 8v Cabrio BlueHDI 115 DLD-416 BHX (DV6FD) 85 kW/114 HP Diesel 2014-2015+ Bosch EDC17C60
CAR Citroen DS3 1.6 8v Cabrio BlueHDI 120 DLD-416 BHZ (DV6FC) 88 kW/118 HP Diesel 2014-2015+ Bosch EDC17C60
CAR Citroen DS3 1.4 8v e-HDI 70 EGS DLD-414 8HR (DV4TD) 50 kW/67 HP Diesel 2011-2015+ Bosch EDC17C10
CAR Citroen DS3 1.6 8v e-HDI 115 DLD-416 9HD (DV6ATED4) 84 kW/113 HP Diesel 2013-2014+ Bosch EDC17C10
CAR Citroen DS3 1.6 8v e-HDI 90 DLD-416 9HP (DV6ATED4) 68 kW/91 HP Diesel 2012-2015+ Bosch EDC17C10
CAR Citroen DS3 1.6 8v e-HDI 90 EGS6 DLD-416 9HP (DV6ATED4) 68 kW/91 HP Diesel 2012-2015+ Bosch EDC17C10
CAR Citroen DS3 1.6 8v HDi 90 DLD-416 9HP (DV6ATED4) 68 kW/91 HP Diesel 2010-2011+ Bosch EDC17C10
CAR Citroen DS3 1.6 8v Cabrio e-HDI 90 Airdream EGS6 DLD-416 9HP (DV6ATED4) 68 kW/91 HP Diesel 2013-2015+ Bosch EDC17C10
CAR Citroen DS3 1.6 16v THP 150 5FR (EP6DT) 115 kW/154 HP Petrol 2010-2012+ Bosch MED17.4.2
CAR Citroen DS3 1.6 16v THP 155 5FR (EP6DT) 115 kW/154 HP Petrol 2012-2014+ Bosch MED17.4.2
CAR Citroen DS3 1.6 16v THP Racing 5FD (EP6DTS) 152 kW/204 HP Petrol 2011-2012+ Bosch MED17.4.2
CAR Citroen DS3 1.6 16v THP Cabrio 155 5FR (EP6DT) 115 kW/154 HP Petrol 2013-2014+ Bosch MED17.4.2
CAR Citroen DS3 1.6 16v THP Cabrio Racing 5FD (EP6DTS) 152 kW/204 HP Petrol 2014+ Bosch MED17.4.2
CAR Citroen DS3 1.6 16v THP 150 EP6FDT 110 kW/148 HP Petrol 2014-2015+ Bosch MED17.4.4
CAR Citroen DS3 1.6 16v THP 165 EP6FDT 121 kW/162 HP Petrol 2014-2015+ Bosch MED17.4.4
CAR Citroen DS3 1.6 16v THP Cabrio 150 EP6FDT 110 kW/148 HP Petrol 2014-2015+ Bosch MED17.4.4
CAR Citroen DS3 1.6 16v THP Cabrio 165 EP6FDT 121 kW/162 HP Petrol 2014-2015+ Bosch MED17.4.4
CAR Citroen DS4 1.6 Hdi 9HP 69 kW/93 HP Diesel 2014+ Bosch EDC17C60
CAR Citroen DS4 1.6 Hdi 9HP 82 kW/110 HP Diesel 2014+ Bosch EDC17C60
CAR Citroen DS4 1.6 16v THP 5FU (EP6DTX) 147 kW/197 HP Petrol 2011+ Bosch MED17.4.2
CAR Citroen DS4 1.6 16v THP 5FV (EP6CDT) 114 kW/153 HP Petrol 2011+ Bosch MED17.4.2
CAR Citroen DS5 1.6 Hdi 9HP 69 kW/93 HP Diesel 2014+ Bosch EDC17C60
CAR Citroen DS5 1.6 Hdi 9HP 82 kW/110 HP Diesel 2014+ Bosch EDC17C60
CAR Citroen DS5 1.6 16v THP 5FU (EP6DTX) 147 kW/197 HP Petrol 2011+ Bosch MED17.4.2
CAR Citroen DS5 1.6 16v THP 5FV (EP6CDT) 114 kW/153 HP Petrol 2011+ Bosch MED17.4.2
CAR Opel Grandland X 1.6 Ecotec 88 kW/118 HP Diesel 2017-2019+ Bosch EDC17C60
CAR Peugeot 206 Plus 1.4 8v HDi DV4 8HR 50 kW/67 HP Diesel 2009-2012+ Bosch EDC17C10
CAR Peugeot 207 1.6 HDI 9HP (DV6DTED) 66 kW/89 HP Diesel 2010+ Bosch EDC17C10
CAR Peugeot 207 1.6 16v THP 5FR (EP6DT) 110 kW/148 HP Petrol 2007-2009+ Bosch MED17.4
CAR Peugeot 207 1.6 16v THP 5FR (EP6DT) 110 kW/148 HP Petrol 2009+ Bosch MED17.4.2
CAR Peugeot 207 1.6 16v THP RC 5FY (EP6DTS) 129 kW/173 HP Petrol 2007+ Bosch MED17.4.2
CAR Peugeot 207 (A7) 1400 VTi 8FS Petrol Bosch MEV17.4
CAR Peugeot 207 (A7) 1600 5FS (EP6C) Petrol Bosch MEV17.4
CAR Peugeot 208 (I) 1.6 8v BlueHDI DLD-416 BHW (DV6FE) 55 kW/74 HP Diesel 2015-2018+ Bosch EDC17C60
CAR Peugeot 208 (I) 1.6 8v BlueHDI DV6 DV6FDTED 74 kW/99 HP Diesel 2015-2018+ Bosch EDC17C60
CAR Peugeot 208 (I) 1.4 HDI 50 kW/67 HP Diesel 2012-2012+ Bosch EDC17C10
CAR Peugeot 208 (I) 1.6 HDI 9HP (DV6DTED) 68 kW/91 HP Diesel 2012-2012+ Bosch EDC17C10
CAR Peugeot 208 (I) 1.6 HDI 9HP (DV6DTED) 85 kW/114 HP Diesel 2012-2012+ Bosch EDC17C10
CAR Peugeot 208 (I) 1.6 16v THP 5FV (EP6CDT) 114 kW/153 HP Petrol 2012+ Bosch MED17.4.2
CAR Peugeot 208 (I) 1.6 16v THP GT 165 EP6FDT 121 kW/162 HP Petrol 2012-2016+ Bosch MED17.4.4
CAR Peugeot 208 (I) 1.6 16v Gti THP 147 kW/197 HP Petrol 2013+ Bosch MEVD17.4.2
CAR Peugeot 208 (I) 1.6 16v THP Gti 5GR 155 kW/208 HP Petrol 2014-2015+ Bosch MEVD17.4.4
CAR Peugeot 308 1.6 BlueHDI 73 kW/98 HP Diesel 2014-2017+ Bosch EDC17C60
CAR Peugeot 308 1.6 BlueHDI 88 kW/118 HP Diesel 2014-2017+ Bosch EDC17C60
CAR Peugeot 308 1.6 HDI 9HP (DV6DTED) 68 kW/91 HP Diesel 2010-2013+ Bosch EDC17C10
CAR Peugeot 308 1.6 16v THP 5FT (EP6DT) 103 kW/138 HP Petrol 2007-2010+ Bosch MED17.4.2
CAR Peugeot 308 1.6 16v THP 5FY (EP6DTS) 128 kW/172 HP Petrol 2008-2010+ Bosch MED17.4.2
CAR Peugeot 308 1.6 16v THP 5FE (EP6DT) 110 kW/148 HP Petrol 2010-2013+ Bosch MED17.4.2
CAR Peugeot 308 1.6 16v THP GT EPS6DTS 128 kW/172 HP Petrol 2010-2013+ Bosch MED17.4.4
CAR Peugeot 308 1.6 16v THP 5FV (EP6CDT) 115 kW/154 HP Petrol 2010-2013+ Bosch MEVD17.4.2
CAR Peugeot 308 1.6 16v THP GTI 5FU 147 kW/197 HP Petrol 2010-2013+ Bosch MEVD17.4.2
CAR Peugeot 308 1.6 16v THP Gti 5GR 184 kW/247 HP Petrol 2015-2018+ Bosch MEVD17.4.4
CAR Peugeot 308 (T7) 1400 8FS Petrol Bosch MEV17.4
CAR Peugeot 508 2.2 HDI 4HL (DW12C) 150 kW/201 HP Diesel 2010-2010+ Bosch EDC17CP42
CAR Peugeot 508 1.6 HDI 9HP (DV6DTED) 85 kW/114 HP Diesel 2012-2012+ Bosch EDC17C10
CAR Peugeot 508 1.6 16v THP 5FT (EP6CDT) 114 kW/153 HP Petrol 2010+ Bosch MED17.4.2
CAR Peugeot 508 1.6 16v THP 5FT (EP6DT) 110 kW/148 HP Petrol 2010+ Bosch MED17.4.2
CAR Peugeot 508 1.6 16v THP 5FR (EP6DT) 115 kW/154 HP Petrol 2010-2014+ Bosch MED17.4.2
CAR Peugeot 508 1.6 16v THP 165 EP6FDT 121 kW/162 HP Petrol 2010-2013+ Bosch MED17.4.4
CAR Peugeot 2008 (I) 1.6 e-HDI 9HP (DV6DTED) 68 kW/91 HP Diesel 2013-2015+ Bosch EDC17C10
CAR Peugeot 2008 1.6 BlueHDi 100 FAP BHY 73 kW/98 HP Diesel 2015-2016+ Bosch EDC17C60
CAR Peugeot 3008 1.6 BlueHDI 120 DV6FCTED 88 kW/118 HP Diesel 2014-2016+ Bosch EDC17C60
CAR Peugeot 3008 1.6 16v THP 5FT (EP6CDT) 114 kW/153 HP Petrol 2009+ Bosch MED17.4.2
CAR Peugeot 3008 1.6 16v THP 5FT (EP6DT) 110 kW/148 HP Petrol 2009+ Bosch MED17.4.2
CAR Peugeot 3008 (II) 1.6 BlueHDI DV6FCTED 88 kW/118 HP Diesel 2016-2017+ Bosch EDC17C60
CAR Peugeot 5008 (I) 1.6 BlueHDI 120 DV6FCTED 88 kW/118 HP Diesel 2014-2016+ Bosch EDC17C60
CAR Peugeot 5008 (I) 1.6 16v THP 156 EP6 EP6CDT 115 kW/154 HP Petrol 2009-2016+ Bosch MED17.4.2
CAR Peugeot 5008 (I) 1.6 16v THP 156 EP6CDT 115 kW/154 HP Petrol 2009-2016+ Bosch MED17.4.4
CAR Peugeot 5008 (II) 1.6 BlueHDI 100 DV6FC DV6FDTED 73 kW/98 HP Diesel 2017-2018+ Bosch EDC17C60
CAR Peugeot 5008 (II) 1.6 BlueHDI 120 DV6FCTED 88 kW/118 HP Diesel 2017-2017+ Bosch EDC17C60
CAR Peugeot 5008 (II) 1.6 16v THP 165 EP6 EP6FDT 121 kW/163 HP Petrol 2017-2018+ Bosch MED17.4.2
CAR Peugeot Partner (II) 1.6 BlueHDi DV6FC 88 kW/118 HP Diesel 2015-2016+ Bosch EDC17C60
CAR Peugeot Partner (II) 1.6 BlueHDi DV6FD 72 kW/97 HP Diesel 2015-2016+ Bosch EDC17C60
CAR Peugeot Partner (II) 1.6 HDi 84 kW/113 HP Diesel 2012-2015+ Bosch EDC17C10
CAR Peugeot Partner (II) 1.6 HDi 9HP 68 kW/91 HP Diesel 2012-2015+ Bosch EDC17C10
CAR Peugeot RCZ 1.6 16v THP 155 5FV 115 kW/154 HP Petrol 2010-2015+ Bosch MED17.4.2
CAR Peugeot RCZ 1.6 16v THP 200 5FU 147 kW/197 HP Petrol 2010-2015+ Bosch MEVD17.4.2
CAR Peugeot RCZ 1.6 16v THP R 5FG 199 kW/267 HP Petrol 2013-2015+ Bosch MEVD17.4.4
CAR Toyota Proace (I) 1.6D 90 5MT DV6 3WZ-FTV 66 kW/89 HP Diesel 2013-2016+ Bosch EDC17C60