With the latest K-Suite update, thanks to the K-TAG evolved hardware, it will be possible to work on bench on ECUs with Tricore processor without having to open them.
You won't have to buy new hardware, cables or adapters! To receive the new activation for free you just need an active subscription on K-TAG Master or Slave with Tricore-ST activation.
Tricore Service Mode.
Remap the ECU on bench without having to open it: with K-TAG now you read and write the ECU directly through the connector!
Download now the new K-Suite update to work easily on bench without opening the ECU!
Take a look at all the new ECUs and vehicles available, simply clicking on the button TRICORE SERVICE MODE of K-Suite!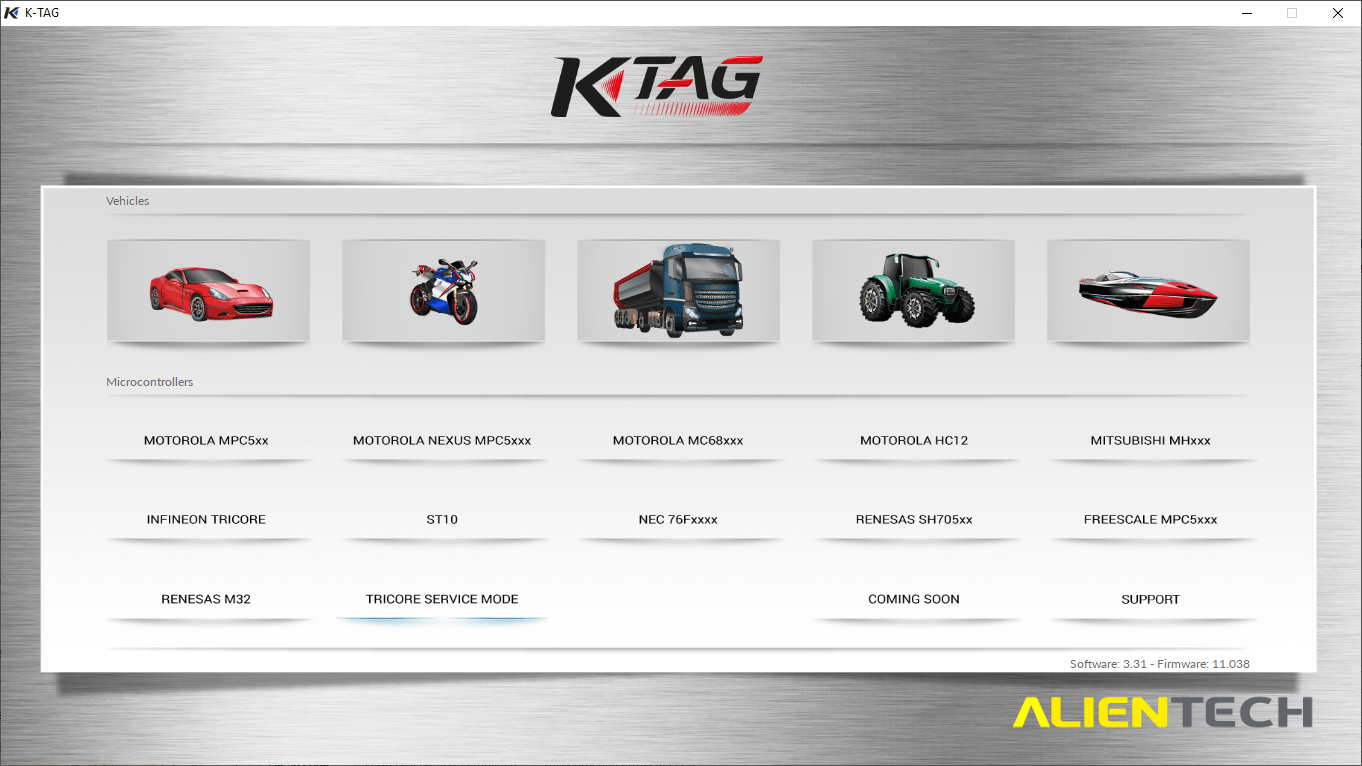 In K-Suite, you can look at the updated vehicle list to find out all the new ECUs supported: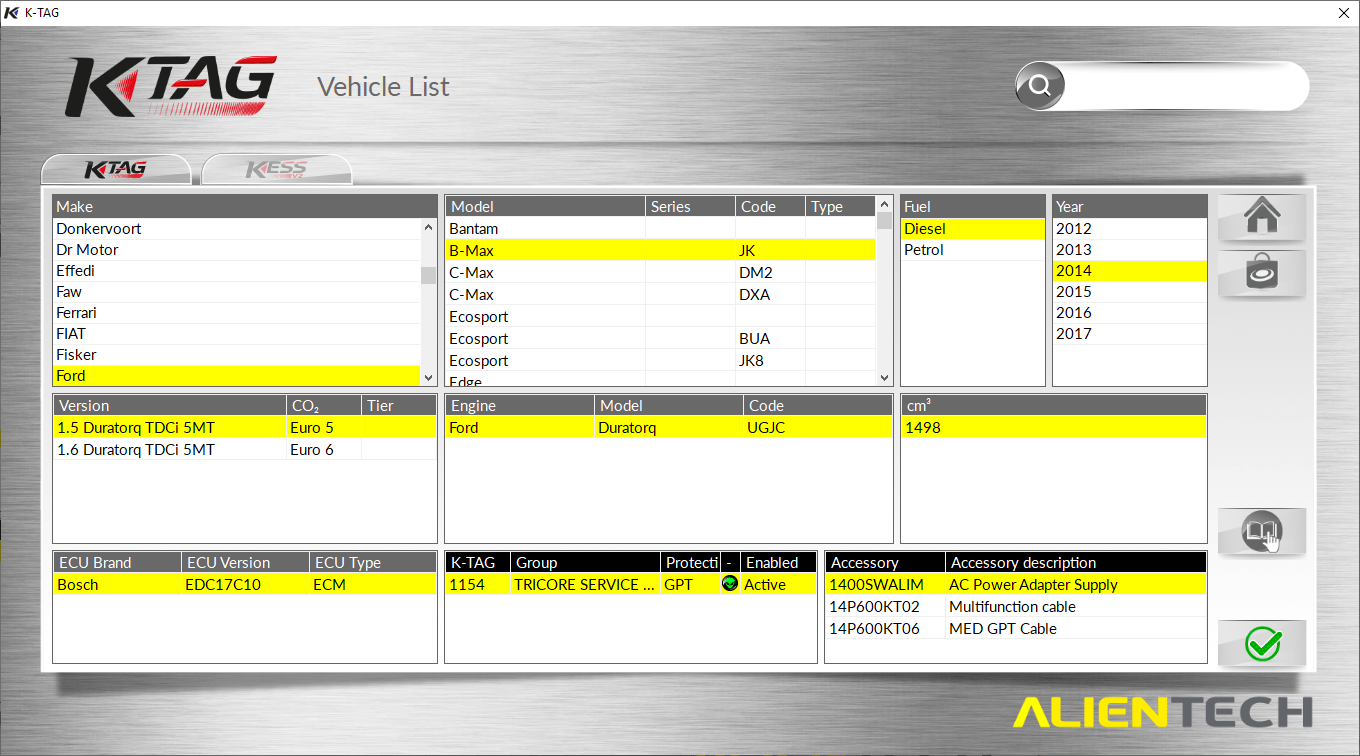 New ECUs supported by K-TAG with Tricore SM:
BOSCH EDC17C10 IROM TC1797 FORD TSM
BOSCH EDC17C10 IROM TC1797 PSA TSM
BOSCH EDC17C41 IROM TC1797 BMW/MINI TSM
BOSCH EDC17C49 IROM TC1797 AEBI SCHMIDT TSM
BOSCH EDC17C49 IROM TC1797 CASE/NEW HOLLAND TSM
BOSCH EDC17C49 IROM TC1797 FCA TSM
BOSCH EDC17C49 IROM TC1797 IVECO TSM
BOSCH EDC17C49 IROM TC1797 LINDNER PERKINS TSM
BOSCH EDC17C49 IROM TC1797 MITSUBISHI TSM
BOSCH EDC17C49 IROM TC1797 SUZUKI TSM
BOSCH EDC17C50 IROM TC1797 BMW TSM
BOSCH EDC17C54 IROM TC1797 VAG TSM
BOSCH EDC17C56 IROM TC1797 BMW TSM
BOSCH EDC17C64 IROM TC1797 VAG TSM
BOSCH EDC17C79 IROM TC1797 FCA TSM
BOSCH EDC17CP05 IROM TC1797 FORD TSM
BOSCH EDC17CP18 IROM TC1797 CHEVROLET/GMC TSM
BOSCH EDC17CP44 IROM TC1797 VAG TSM
BOSCH EDC17CP45 IROM TC1797 BMW TSM
BOSCH EDC17CP46 IROM TC1797 MERCEDES TSM
BOSCH EDC17CP47 IROM TC1797 OPEL TSM
BOSCH EDC17CP48 IROM TC1797 VOLVO TSM
BOSCH EDC17CP49 IROM TC1797 BMW TSM
BOSCH EDC17CP50 IROM TC1797 HONDA TSM
BOSCH EDC17CP68 IROM TC1797 VOLVO TSM
BOSCH EDC17CV41 IROM TC1797 GENERIC TRUCK TSM
BOSCH EDC17CV41 IROM TC1797 ISUZU TSM
BOSCH EDC17CV41 IROM TC1797 IVECO TSM
BOSCH EDC17CV42 IROM TC1797 GENERIC TRUCK TSM
BOSCH EDC17CV42 IROM TC1797 MAN TRUCK TSM
BOSCH EDC17CV52 IROM TC1797 DEUTZ TSM
BOSCH ME17.1.1 IROM TC1797 VAG TSM
BOSCH ME17.2 BMSX IROM TC1797 BMW TSM
BOSCH ME17.8.31 IROM TC1797 ASTON MARTIN
BOSCH ME17.8.32 IROM TC1797 MCLAREN TSM
BOSCH MED17.1.1 IROM TC1797 VAG TSM
BOSCH MED17.1.11 IROM TC1797 PORSCHE TSM
BOSCH MED17.1.6 IROM TC1797 VAG TSM
BOSCH MED17.3.4 IROM TC1797 MASERATI TSM
BOSCH MED17.7.2 IROM TC1797 MERCEDES TSM
BOSCH MED17.7.3 IROM TC1797 MERCEDES TSM
BOSCH MED17.7.3.1 XROM TC1797 MERCEDES TSM
BOSCH MED17.7.8 IROM TC1797 MERCEDES TSM
BOSCH MED17.8.31 IROM TC1797 JAGUARBOSCH MEVD17.2 IROM TC1797 BMW TSM
BOSCH MEVD17.2.8 IROM TC1797 BMW TSM
BOSCH MEVD17.2.X IROM TC1797 BMW TSM
BOSCH MEVD17.8.4 IROM TC1797 BMW TSM
BOSCH EDC17C10 IROM TC1797 FORD TSM
BOSCH EDC17C10 IROM TC1797 PSA TSM
BOSCH EDC17C41 IROM TC1797 BMW/MINI TSM
BOSCH EDC17C49 IROM TC1797 AEBI SCHMIDT TSM
BOSCH EDC17C49 IROM TC1797 CASE/NEW HOLLAND TSM
BOSCH EDC17C49 IROM TC1797 FCA TSM
BOSCH EDC17C49 IROM TC1797 IVECO TSM
BOSCH EDC17C49 IROM TC1797 LINDNER PERKINS TSM
BOSCH EDC17C49 IROM TC1797 MITSUBISHI TSM
BOSCH EDC17C49 IROM TC1797 SUZUKI TSM
BOSCH EDC17C50 IROM TC1797 BMW TSM
BOSCH EDC17C54 IROM TC1797 VAG TSM
BOSCH EDC17C56 IROM TC1797 BMW TSM
BOSCH EDC17C64 IROM TC1797 VAG TSM
BOSCH EDC17C79 IROM TC1797 FCA TSM
BOSCH EDC17CP05 IROM TC1797 FORD TSM
BOSCH EDC17CP18 IROM TC1797 CHEVROLET/GMC TSM
BOSCH EDC17CP44 IROM TC1797 VAG TSM
BOSCH EDC17CP45 IROM TC1797 BMW TSM
BOSCH EDC17CP46 IROM TC1797 MERCEDES TSM
BOSCH EDC17CP47 IROM TC1797 OPEL TSM
BOSCH EDC17CP48 IROM TC1797 VOLVO TSM
BOSCH EDC17CP49 IROM TC1797 BMW TSM
BOSCH EDC17CP50 IROM TC1797 HONDA TSM
BOSCH EDC17CP68 IROM TC1797 VOLVO TSM
BOSCH EDC17CV41 IROM TC1797 GENERIC TRUCK TSM
BOSCH EDC17CV41 IROM TC1797 ISUZU TSM
BOSCH EDC17CV41 IROM TC1797 IVECO TSM
BOSCH EDC17CV42 IROM TC1797 GENERIC TRUCK TSM
BOSCH EDC17CV42 IROM TC1797 MAN TRUCK TSM
BOSCH EDC17CV52 IROM TC1797 DEUTZ TSM
BOSCH ME17.1.1 IROM TC1797 VAG TSM
BOSCH ME17.2 BMSX IROM TC1797 BMW TSM
BOSCH ME17.8.31 IROM TC1797 ASTON MARTIN
BOSCH ME17.8.32 IROM TC1797 MCLAREN TSM
BOSCH MED17.1.1 IROM TC1797 VAG TSM
BOSCH MED17.1.11 IROM TC1797 PORSCHE TSM
BOSCH MED17.1.6 IROM TC1797 VAG TSM
BOSCH MED17.3.4 IROM TC1797 MASERATI TSM
BOSCH MED17.7.2 IROM TC1797 MERCEDES TSM
BOSCH MED17.7.3 IROM TC1797 MERCEDES TSM
BOSCH MED17.7.3.1 XROM TC1797 MERCEDES TSM
BOSCH MED17.7.8 IROM TC1797 MERCEDES
BOSCH MED17.8.31 IROM TC1797 JAGUAR
BOSCH MEVD17.2 IROM TC1797 BMW TSM
BOSCH MEVD17.2.8 IROM TC1797 BMW TSM
BOSCH MEVD17.2.X IROM TC1797 BMW TSM
BOSCH MEVD17.8.4 IROM TC1797 BMW TSM