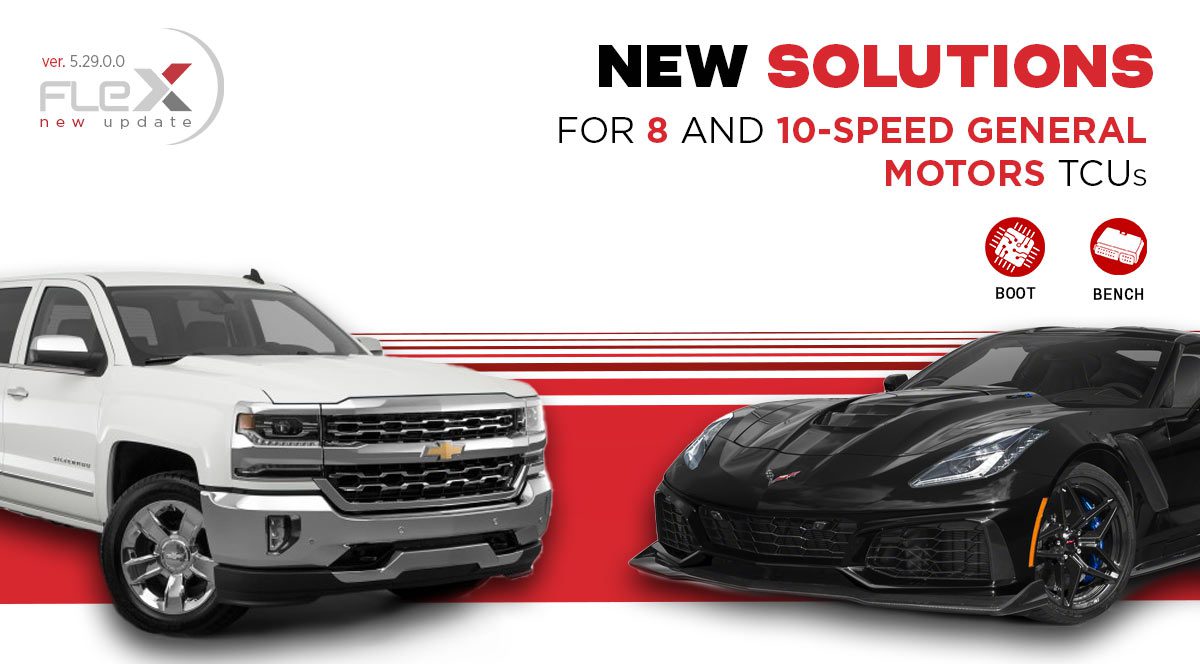 Bench and Boot Solutions for 8 and 10-speed General Motors TCUs
Magicmotorsport has released new solutions for General Motors automatic transmissions (TCU) installed on 2012 to 2020 Chevrolet, Cadillac, GMC and Buick branded vehicles.
With the new FLEX release (5.29.0.0) you can now reprogram automatic transmissions T87 and T87A equipped with SPC564A microprocessor in Bench and Bootloader modes; you can also access the contents of the electronic control unit directly from the drive connector.
The new Boot protocol for GM automatic transmissions guarantees complete repair in the event of damage to the electronics.
Supported Vehicles:
Cadillac CT6 2.0 Turbo LD4 (2019)
Chevrolet Express 2500 6.6 Duramax (2017)
Cadillac CTS 6.2 V8 2019
Chevrolet Corvette ZR1 6.2 V8
GMC Yukon SLT 5.3L V8 2018
The new Bench and Boot protocols for General Motors T87 and T87A automatic transmissions are available for the following software packages:
The new protocols are available for the following software packs:
FLS0.2 -Package Flex TCU OBD / Bench (car, bike, van)
FLS0.4 – Package Flex BL Nexus MPC5XXX
FLS0.5 – Package Flex FULL
NEW BENCH PROTOCOLS:
GMC GM T87: Read / Write / Checksum Internal Flash; Full backup
Chevrolet GM T87: Read / Write / Checksum Internal Flash; Full backup
Cadillac GM T87: Read / Write / Checksum Internal Flash; Full backup
GMC GM T87A: Read / Write / Checksum Internal Flash; Full backup
Chevrolet GM T87A: Read / Write / Checksum Internal Flash; Full backup
Cadillac GM T87A: Read / Write / Checksum Internal Flash; Full backup
NEW BOOT PROTOCOLS:
GMC GM T87: Read / Write / Checksum Internal Flash; Full backup
Chevrolet GM T87: Read / Write / Checksum Internal Flash; Full backup
Cadillac GM T87: Read / Write / Checksum Internal Flash; Full backup
GMC GM T87A: Read / Write / Checksum Internal Flash; Full backup
Chevrolet GM T87A: Read / Write / Checksum Internal Flash; Full backup
Cadillac GM T87A: Read / Write / Checksum Internal Flash; Full backup
Bugfix:
Magneti Marelli 8GMx and 8Fx – Improved protocol to exit from service mode