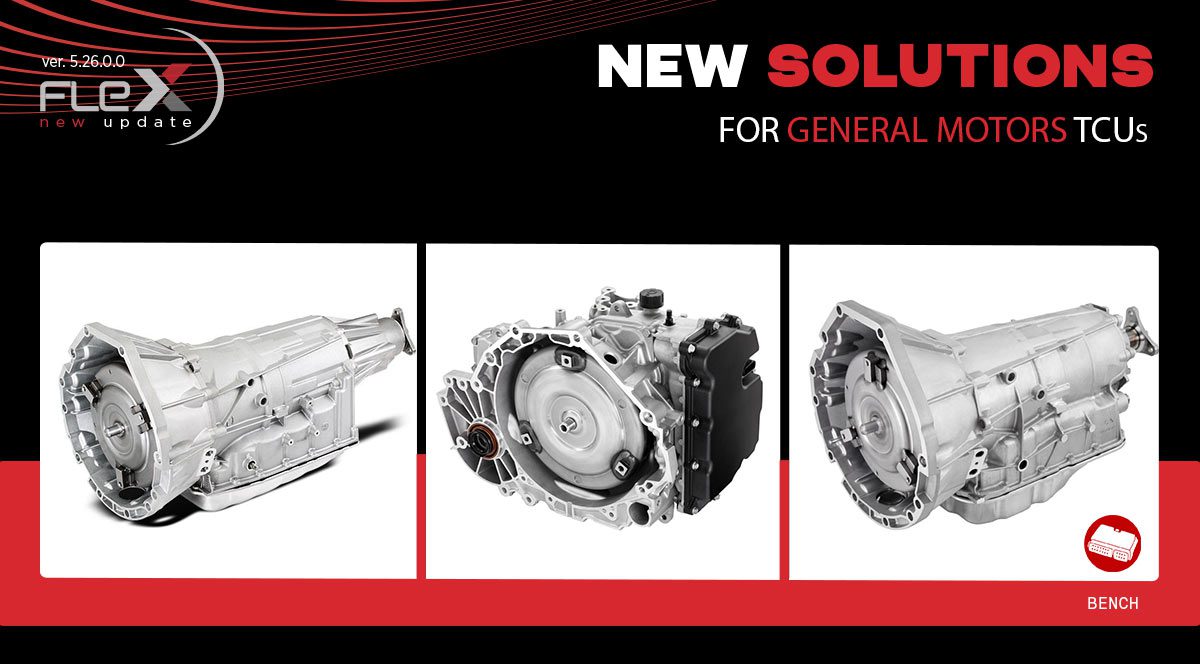 New Bench protocols for GM TCUs
We have new Bench mode solutions for programming General Motors brand automatic transmissions (TCU / TCM) installed on vehicles such as Chevrolet, Buick, Hummer, GMC, and Ford, just to name a few.
With the latest FLEX update (version 5.26.0.0), chip tuning and repair interventions are now possible on GM 6T30, 6T35, 6T40, 6T45, 6T50, 6T70, 6T75, 6T80, 6L45, 6L50, 6L80, 6L90 TCUs.
The new protocol supports complete reading and writing of AM29 and M58 flash memories.
Supported Vehicles:
Chevrolet Cruze 1.4 Turbo
Chevrolet Aveo 1.6 (T300)
Chevrolet Trax 1.8
Buick Verano 2.0
Chevrolet Malibu (V300) Turbo
Ford Edge 3.5 V6
GMC Acadia 3.6 V6
Pontiac G6 3.5 V6
Saturn Outlook 3.6 V6
Lincoln MKX 3.7 V6
GMC Terrain 3.6 V6
Ford Escape 3.0 4WD
Chevrolet Corvette 6.2 V8 GranSport
Chevrolet Silverado 1500 5.3 V8 LH6
Hummer H2 6.2 V8 AWD
Pontiac G8 3.2 V8 AWD
Cadillac CTS 3.6 V6
The new protocols are available for the following software packs:
FLS0.2 – SW Package Flex TCU OBD/Bench (car, bike, van)
FLS0.5 – SW Package Flex FULL
Read time: 1.20 minutes | Write time: 30 seconds
New Protocols:
Buick GM 6T30 AM29BDD160GB: Read/Write/Checksum ExtFlash
Chevrolet GM 6T30 AM29BDD160GB: Read/Write/Checksum ExtFlash
Chevrolet GM 6T35 AM29BDD160GB: Read/Write/Checksum ExtFlash
Chevrolet GM 6T40 AM29BDD160GB: Read/Write/Checksum ExtFlash
Chevrolet GM 6T45 AM29BDD160GB: Read/Write/Checksum ExtFlash
Buick GM 6T50 AM29BDD160GB: Read/Write/Checksum ExtFlash
Chevrolet GM 6T50 AM29BDD160GB: Read/Write/Checksum ExtFlash
Ford GM 6T70 M58BW016DB: Read/Write/Checksum ExtFlash
GMC GM 6T70 M58BW016DB: Read/Write/Checksum ExtFlash
Lincoln GM 6T70 M58BW016DB: Read/Write/Checksum ExtFlash
Pontiac GM 6T70 M58BW016DB: Read/Write/Checksum ExtFlash
Saturn GM 6T70 M58BW016DB: Read/Write/Checksum ExtFlash
Mercury GM 6T70 M58BW016DB: Read/Write/Checksum ExtFlash
Buick GM 6T75 M58BW016DB: Read/Write/Checksum ExtFlash
Chevrolet GM 6T75 M58BW016DB: Read/Write/Checksum ExtFlash
Ford GM 6T75 M58BW016DB: Read/Write/Checksum ExtFlash
Gmc GM 6T75 M58BW016DB: Read/Write/Checksum ExtFlash
Lincoln GM 6T75 M58BW016DB: Read/Write/Checksum ExtFlash
Mazda GM 6T75 M58BW016DB: Read/Write/Checksum ExtFlash
Mercury GM 6T75 M58BW016DB: Read/Write/Checksum ExtFlash
Pontiac GM 6T75 M58BW016DB: Read/Write/Checksum ExtFlash
Buick GM 6T80 M58BW016DB: Read/Write/Checksum ExtFlash
Cadillac GM 6T80 M58BW016DB: Read/Write/Checksum ExtFlash
Chevrolet GM 6T80 M58BW016DB: Read/Write/Checksum ExtFlash
Ford GM 6T80 M58BW016DB: Read/Write/Checksum ExtFlash
GMC GM 6T80 M58BW016DB: Read/Write/Checksum ExtFlash
Lincoln GM 6T80 M58BW016DB: Read/Write/Checksum ExtFlash
Cadillac GM 6L45 M58BW016DB: Read/Write/Checksum ExtFlash
Cadillac GM 6L50 M58BW016DB: Read/Write/Checksum ExtFlash
Chevolet GM 6L50 M58BW016DB: Read/Write/Checksum ExtFlash
Daewoo GM 6L50 M58BW016DB: Read/Write/Checksum ExtFlash
Holden GM 6L50 M58BW016DB: Read/Write/Checksum ExtFlash
Uaz GM 6L50 M58BW016DB: Read/Write/Checksum ExtFlash
Cadillac GM 6L80 M58BW016DB: Read/Write/Checksum ExtFlash
Chevrolet GM 6L80 M58BW016DB: Read/Write/Checksum ExtFlash
GMC GM 6L80 M58BW016DB: Read/Write/Checksum ExtFlash
Holden GM 6L80 M58BW016DB: Read/Write/Checksum ExtFlash
Hummer GM 6L80 M58BW016DB: Read/Write/Checksum ExtFlash
Pontiac GM 6L80 M58BW016DB: Read/Write/Checksum ExtFlash
Cadillac GM 6L90 M58BW016DB: Read/Write/Checksum ExtFlash
Chevrolet GM 6L90 M58BW016DB: Read/Write/Checksum ExtFlash