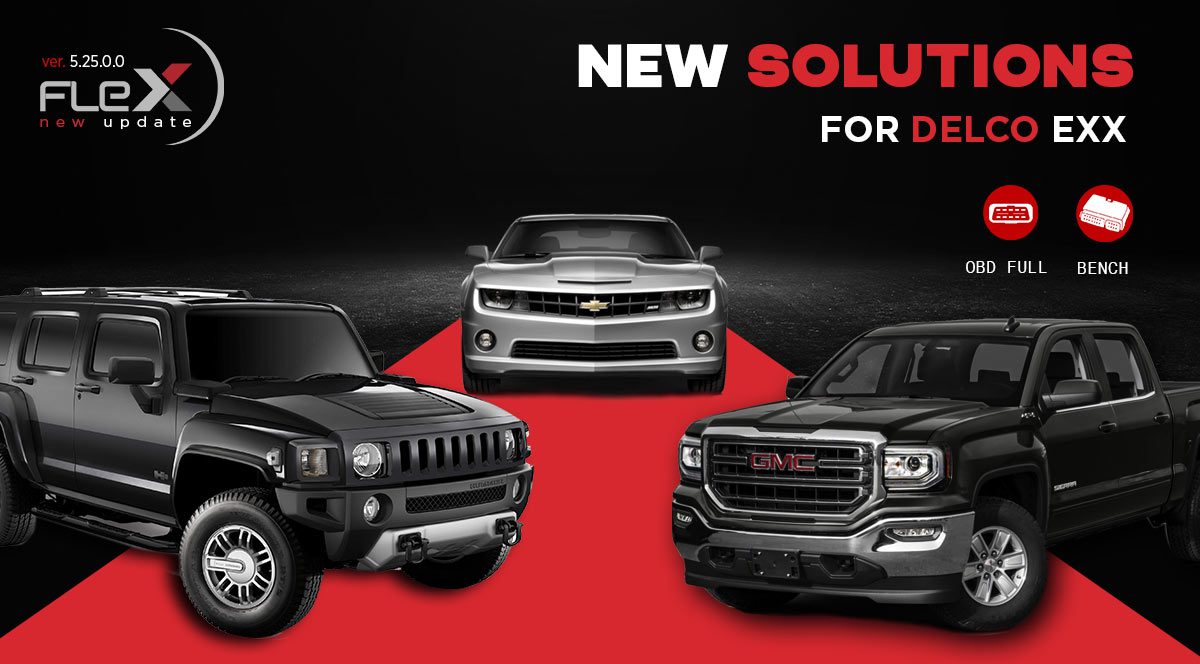 Full OBD and Bench Solutions for DELCO Exx
Magicmotorsport has released new OBD Full and Bench solutions for the reprogramming of ACDelco engine control units installed on GMC, HUMMER, CHEVROLET, and BUICK vehicles, just to name a few.
The new Delco Exx protocol (FLEX vers. 5.25.0.0) opens the door to the world of chip tuning and repair of vehicles produced for the American market from 2005 to 2016.
Supported Vehicles:
Buick Lucerne 3.9 v6
Chevrolet Express 1500 4.3 v6
Cadillac Escalade 6.2 v8 AWD (L92)
Chevrolet Camaro 7.0 v8
Cadillac CTS-V 6.2 v8
Chevrolet Colorado 5.3 v8
Hummer H3 3.7 v6 / 5.7 v8
The new protocols are available for the following software packs:
FLS0.1 – SW Flex ECU (cars, vans, bikes) OBD + Bench
FLS0.4 – SW Package Flex BL Nexus MPC5XXX
FLS0.5 – SW Package Flex FULL
Read time: ~ 1.30 minutes | Write time: ~ 40 seconds
New Protocols:
ECU – Cadillac DELCO E38 AM29BDD160GB: Read/Write/Checksum Internal Flash ; Full Backup/Clone
ECU – Chevrolet DELCO E38 AM29BDD160GB: Read/Write/Checksum Internal Flash ; Full Backup/Clone
ECU – GMC DELCO E38 AM29BDD160GB: Read/Write/Checksum Internal Flash ; Full Backup/Clone
ECU – Holden DELCO E38 AM29BDD160GB: Read/Write/Checksum Internal Flash ; Full Backup/Clone
ECU – Hummer DELCO E38 AM29BDD160GB: Read/Write/Checksum Internal Flash ; Full Backup/Clone
ECU – Pontiac DELCO E38 AM29BDD160GB: Read/Write/Checksum Internal Flash ; Full Backup/Clone
ECU – Saturn DELCO E38 AM29BDD160GB: Read/Write/Checksum Internal Flash ; Full Backup/Clone
ECU – BUICK Saturn DELCO E37 M58BW016DB: Read/Write/Checksum Internal Flash ; Full Backup/Clone
ECU – CHEVROLET DELCO E37 M58BW016DB: Read/Write/Checksum Internal Flash ; Full Backup/Clone
ECU – GMC DELCO E37 M58BW016DB: Read/Write/Checksum Internal Flash ; Full Backup/Clone
ECU – PONTIAC DELCO E37 M58BW016DB: Read/Write/Checksum Internal Flash ; Full Backup/Clone
ECU – SATURN DELCO E37 M58BW016DB: Read/Write/Checksum Internal Flash ; Full Backup/Clone
ECU – BUICK DELCO E67 S29CD016 Read/Write/Checksum Internal Flash ; Full Backup/Clone
ECU – CADILLAC DELCO E67 S29CD016 Read/Write/Checksum Internal Flash ; Full Backup/Clone
ECU – CHEVROLET DELCO E67 S29CD016 Read/Write/Checksum Internal Flash ; Full Backup/Clone
ECU – GMC DELCO E67 S29CD016 Read/Write/Checksum Internal Flash ; Full Backup/Clone
ECU – HOLDEN DELCO E67 S29CD016 Read/Write/Checksum Internal Flash ; Full Backup/Clone
ECU – HUMMER DELCO E67 S29CD016 Read/Write/Checksum Internal Flash ; Full Backup/Clone
ECU – ISUZU DELCO E67 S29CD016 Read/Write/Checksum Internal Flash ; Full Backup/Clone
ECU – PONTIAC DELCO E67 S29CD016 Read/Write/Checksum Internal Flash ; Full Backup/Clone
ECU – SAAB DELCO E67 S29CD016 Read/Write/Checksum Internal Flash ; Full Backup/Clone
ECU – SATURN DELCO E67 S29CD016 Read/Write/Checksum Internal Flash ; Full Backup/Clone