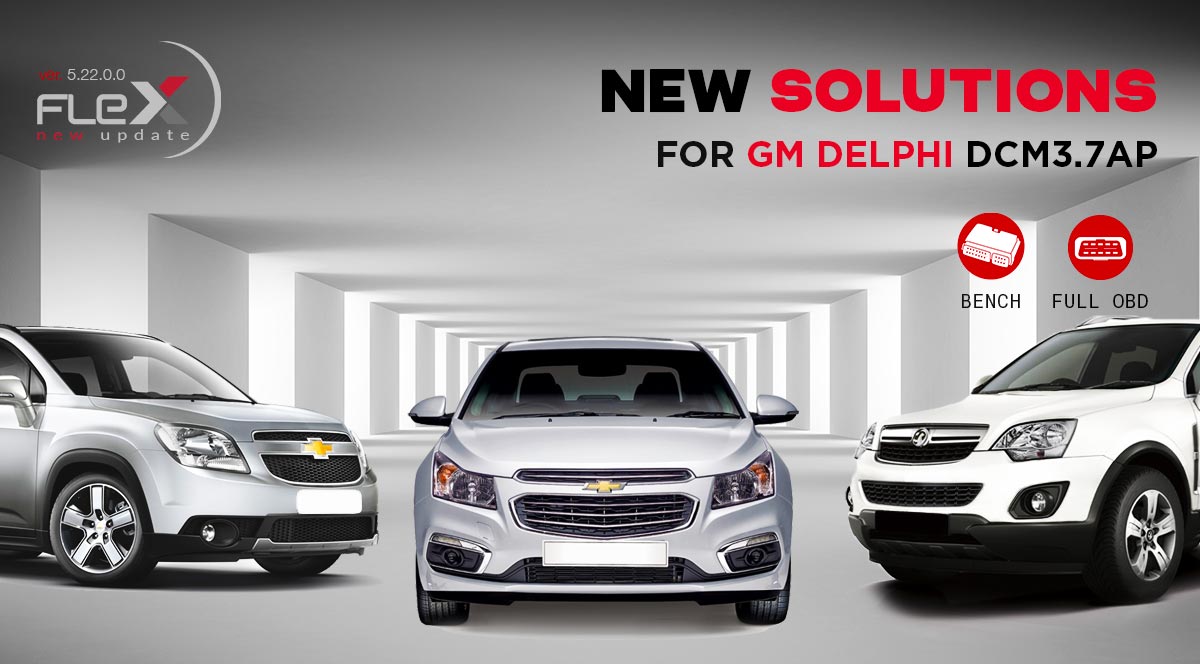 NEW Solutions for GM DELPHI DCM3.7
New software version of FLEX for the reprogramming in OBD Full and Bench mode of GM DELPHI DCM3.7AP engine control units installed on Chevrolet, Holden, Opel, Vauxhall vehicles.
The new functionality allow to work by OBD Full and Bench modes (ver.5.22.0.0) making possible the chip-tuning and repair interventions. Reading and writing of the complete ECU content, is possible, thanks to the access of Eeprom and Flash memories.
Supported Vehicles:
Chevrolet Captiva 2.2 16v D (2014)
Chevrolet Captiva 2.0 16v VCDi (2012)
Chevrolet Orlando 2.0 16v VCDi (2012)
Opel Antara 2.2 VCDi (2013)
The new protocols are available for the following software packs:
FLS0.1 – SW Flex ECU (cars, vans, bikes) OBD + Bench
FLS0.4 – Package Flex BL Nexus MPC5XXX Master
FLS0.5 – Package Flex FULL
FLS0.6 – SW Flex Renesas SH7xxxx Master
Time to Read: ~ 2.20 minutes | Time to Write: ~ 1.30 minutes
NEW OBD PROTOCOLS:
Chevrolet GM Delphi DCM3.7AP SH72544: Read/Write/Checksum Internal Flash ; Read/Write Internal Eeprom
Chevrolet GM Delphi DCM3.7AP SH72513: Read/Write/Checksum Internal Flash ; Read/Write Internal Eeprom
Chevrolet GM Delphi DCM3.7AP MPC5566: Read/Write/Checksum Internal Flash; Read/Write External Eeprom
Opel GM Delphi DCM3.7AP SH72544: Read/Write/Checksum Internal Flash ; Read/Write Internal Eeprom
Opel GM Delphi DCM3.7AP SH72513: Read/Write/Checksum Internal Flash ; Read/Write Internal Eeprom
Opel GM Delphi DCM3.7AP MPC5566: Read/Write/Checksum Internal Flash; Read/Write External Eeprom
Holden GM Delphi DCM3.7AP SH72544: Read/Write/Checksum Internal Flash ; Read/Write Internal Eeprom
Holden GM Delphi DCM3.7AP SH72513: Read/Write/Checksum Internal Flash ; Read/Write Internal Eeprom
Holden GM Delphi DCM3.7AP MPC5566: Read/Write/Checksum Internal Flash; Read/Write External Eeprom
Vauxhall GM Delphi DCM3.7AP SH72544: Read/Write/Checksum Internal Flash ; Read/Write Internal Eeprom
Vauxhall GM Delphi DCM3.7AP SH72513: Read/Write/Checksum Internal Flash ; Read/Write Internal Eeprom
Vauxhall GM Delphi DCM3.7AP MPC5566: Read/Write/Checksum Internal Flash; Read/Write External Eeprom
NEW BENCH PROTOCOLS:
Chevrolet GM Delphi DCM3.7AP SH72544: Read/Write/Checksum Internal Flash ; Read/Write Internal Eeprom
Chevrolet GM Delphi DCM3.7AP SH72513: Read/Write/Checksum Internal Flash ; Read/Write Internal Eeprom
Chevrolet GM Delphi DCM3.7AP MPC5566: Read/Write/Checksum Internal Flash; Read/Write External Eeprom
Opel GM Delphi DCM3.7AP SH72544: Read/Write/Checksum Internal Flash ; Read/Write Internal Eeprom
Opel GM Delphi DCM3.7AP SH72513: Read/Write/Checksum Internal Flash ; Read/Write Internal Eeprom
Opel GM Delphi DCM3.7AP MPC5566: Read/Write/Checksum Internal Flash; Read/Write External Eeprom
Holden GM Delphi DCM3.7AP SH72544: Read/Write/Checksum Internal Flash ; Read/Write Internal Eeprom
Holden GM Delphi DCM3.7AP SH72513: Read/Write/Checksum Internal Flash ; Read/Write Internal Eeprom
Holden GM Delphi DCM3.7AP MPC5566: Read/Write/Checksum Internal Flash; Read/Write External Eeprom
Vauxhall GM Delphi DCM3.7AP SH72544: Read/Write/Checksum Internal Flash ; Read/Write Internal Eeprom
Vauxhall GM Delphi DCM3.7AP SH72513: Read/Write/Checksum Internal Flash ; Read/Write Internal Eeprom
Vauxhall GM Delphi DCM3.7AP MPC5566: Read/Write/Checksum Internal Flash; Read/Write External Eeprom
Software Improvements:
Added CRC for Bench protocol VAG Continental Simos8.6x
Added CRC for HYUNDAI/KIA KEFICO CPGDSH2.2x
Added CRC for ZF BOSCH 9HP
Added CRC for VOLVO TRW EMS2.2
Bugfix:
Fixed Read Maps Error on PSA BOSCH EDC15C2 OBD protocol