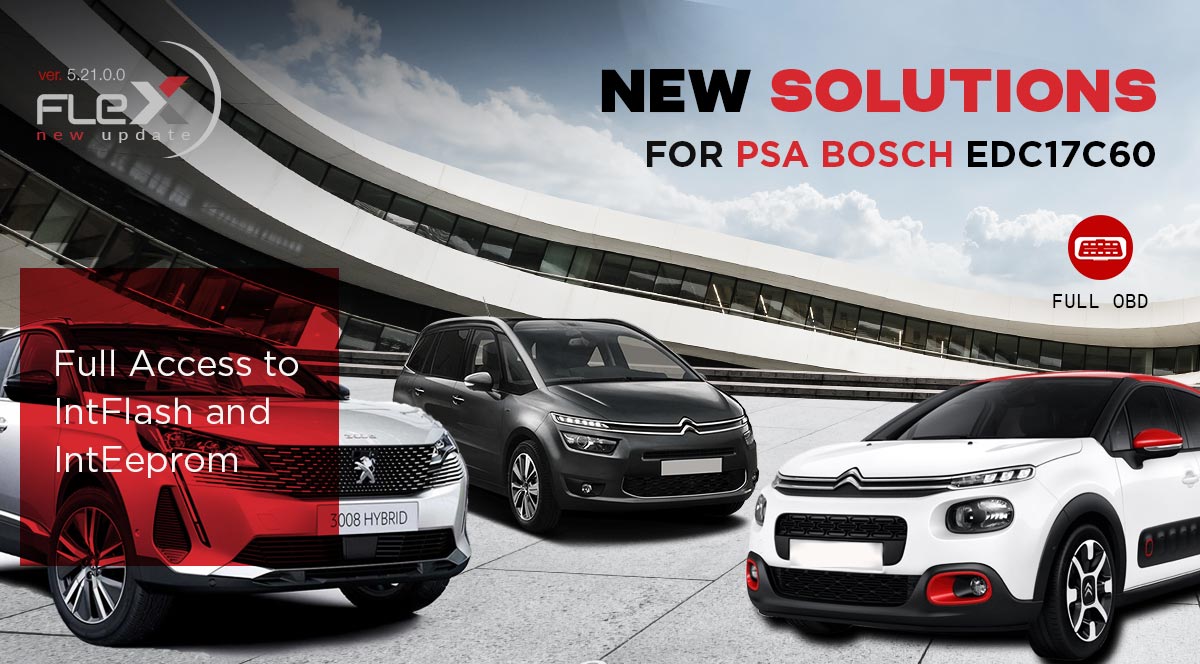 OBD Solutions for PSA BOSCH EDC17C60
Released new FLEX software for OBD programming/tuning of engine control unit PSA BOSCH EDC17C60, this is installed on brands like Citroen, Peugeot, Opel, DS, Toyota, just to mention some of them.
With this FLEX update (5.21.0.0) chiptuning is now possible, the new OBD Full protocol allows to read & write content of the internal Flash memory. This solution was also developed to give access to the EEPROM, facilitating full calibration of the entire memory.
Supported Vehicles:
Citroen Berlingo 1.6 BlueHDI (2018)
DS 4 1.6 BlueHDI (2017)
Opel Crossland X 1.6 BlueHDI (2018)
Peugeot 308 1.6 BlueHDI (2018)
Toyota Proace 1.6 BlueHDI (2015)
The new protocols are available for the following software packs:
FLS0.1 – SW Flex ECU (cars, vans, bikes) OBD + Bench
FLS0.5 – Package Flex FULL
Time to Read: ~ 3 minutes | Time to Write: ~ 1.40 minutes
NEW OBD PROTOCOLS:
ECU – TOYOTA BOSCH EDC17C60 Read/Write/Checksum Internal Flash ; Read/Write/Checksum Internal Eeprom ; Full Backup
ECU – PEUGEOT BOSCH EDC17C60 Read/Write/Checksum Internal Flash ; Read/Write/Checksum Internal Eeprom ; Full Backup
ECU – OPEL BOSCH EDC17C60 Read/Write/Checksum Internal Flash ; Read/Write/Checksum Internal Eeprom ; Full Backup
ECU – DS BOSCH EDC17C60 Read/Write/Checksum Internal Flash ; Read/Write/Checksum Internal Eeprom ; Full Backup
ECU – CITROEN BOSCH EDC17C60 Read/Write/Checksum Internal Flash ; Read/Write/Checksum Internal Eeprom; Full Backup