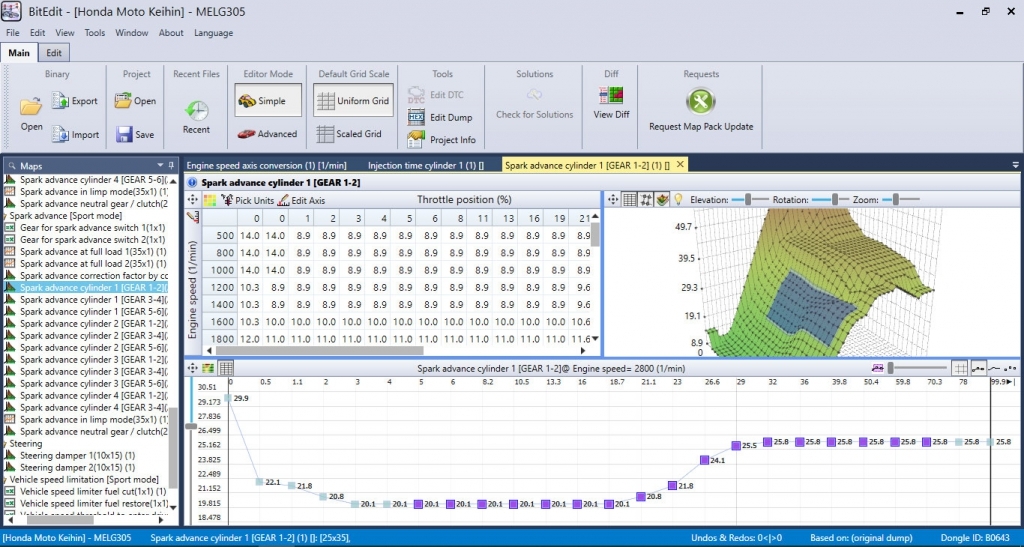 New features:
Full screen mode (F11) now added
Added support for Flags/String editing including BitFlags in new map packs
HexDump: added fast editing buttons and hot keys
HexDump: added support of clipboard actions
HexDump: different selection behaviour with CTRL and ALT keys
HexDump: now number of columns can be changed to fit table sizes
HexDump: added bars visualisation and can be switched ASCII/BARS
HexDump: a lot of actions added to main toolbar in HexDump
Improvements:
Improved working with DataIndex/IndexData axis
Added support of new map formats for Honda Moto module
Added support for additional DTC code formatting and descriptions
Added colours setting for 2D view
Added settings of lines thickness and size of points in 2D view
Bug fixes:
Fixed a lot of stability bugs and crashes caused by map pack internal errors
Fixed memory allocation and leakage on big map packs
Fixed bug with process kill during closing BitEdit
Fixed hot key for editing, in some cases
NEW MODULE – BitEdit Honda Moto Keihin 
Module for editing files from Honda bikes, scooters and ATVs with Keihin ECU.
Supports different ECU types H8C/R8C, SPC, SH7058, M32R
Click here for screenshots and more info!
View Full Range of modules here.